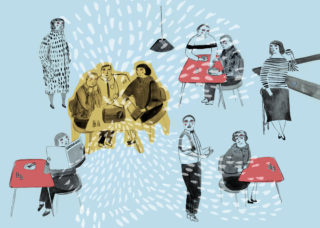 Hear last night's Loud And Quiet radio show – a trip from pre-medieval alt. folk to the best pop song of this millennium
We also played XX Teens last night. XX TEENS!!!
For last night's (31 May) Loud And Quiet Radio show on ResonanceFM, we thought we'd curtail the babble a bit and stick what people are probably more interested in – the new music. We did so well we even had time to play a couple of old tunes from a time when people would exchange money for music.
Let's not spoil the surprise here, but one of them was definitely bought and the other… maybe not so much. They BOTH should have been, though.
Take a listen below. The suspense must be killing you.
And the band we clumsily avoid announcing are called Shit Girlfriend, by the way.
We played:
The I.L.Ys – Wash My Hands Shortly
Sheer Mag – Just Can't Get Enough
Josin – Feral Thing
XX Teens – The Way We Were
Yaeji – Feel it Out
Shit Girlfriend – I Don't Wanna Die
Amerie – 1 Thing
Richard Dawson – Ogre
Meatraffle – Brother
Mush – Alternative Facts
We're not being funny...
… but can you become a member please?
It's actually excellent value, and will help us continue to promote new independent artists and labels.
Sign up and you'll receive our physical magazines delivered to your door, our digital editions, exclusive podcasts and playlists and an actual bookmark, as if printing a magazine in 2021 wasn't old fashioned enough.
6-month and full year memberships are available now. Fancy it?