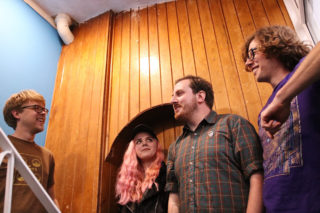 Lower Slaughter share 'Teeth' – a new heavy party tune from their debut album
"What big eyes you have!"
Bringing two of the UK's most vibrant musical cities together in the form of a band creates an interesting collision. That's exactly the case with Lower Slaughter. While the majority of the band live on the south coast in Brighton, vocalist Sinead Young lives and works in Glasgow (a decision prompted by Brexit). The result is more than just a big schlep for band practice, the heritage, influence and mindset of those two places infiltrates the foursome's music. It also gives them an extra impetus to work quickly and urgently when do they manage to get together.
Hayley Scott went to meet them recently to discuss being in a band split across 500 miles, how they're "loud but not angry" and to talk about how they address mental illness in their music.
The foursome have a debut album coming out in the middle of this month – 'What Big Eyes' comes out via Box Records on 15 September.
We're pleased to share a new track from it, the uncompromising, two-minute rush of raw noise 'Teeth'.