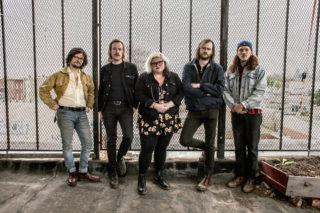 Fuck yeah! Sheer Mag are battling all this hate with a big, shameless punk-rock love song
Some grit and groove from the Philadelphia band as they announce their debut album
It's easy to be cynical right now, what with the world continually proving itself to be a bit of a shitter most days.
But Sheer Mag are determined to keep themselves from those dark thoughts because they've just shared a new song… and they're calling it a "straight up and down rock ballad about ACTUALLY being in love." They admit, "we don't often write about without being cynical in some way."
It's called 'Just Can't Get Enough' and if you like Thin Lizzy or Joan Jett, well, you're gonna dig it.
After three EPs there's a full debut album on the way – 'Need To Feel Your Love' (read more about it after the video) is out on 14 July on Static Shock Records.
The band, who like to refer to themselves in the third person, have announced the album with a lengthy, self-penned explanation:
"By making a music both painfully urgent and spiritually timeworn, SHEER MAG speak to a modern pain: to a people that too feel their flame on the verge of being extinguished, yet choose to burn a bit brighter in spite of that threat.
With their debut LP, the cloak has been lifted. It is time to reclaim something that has been taken from us. Here the band rolls up their sleeves, takes to the streets, and demands recompense for a tradition of inequity that's poisoned our world.
However, it is in our ability to love – our primal human right to give and receive love – that the damage of such toxicity is newly explored.
Love is a choice we make. We ought not obscure, neglect, or deny that choice."
They're also announced a handful of summer UK shows, too:
London, Islington Assembly Hall – 20 July
Sheffield, The Lughole – 21
Glasgow, Mono – 22
Manchester, Deaf Institute – 23
We're not being funny...
… but can you become a member please?
It's actually excellent value, and will help us continue to promote new independent artists and labels.
Sign up and you'll receive our physical magazines delivered to your door, our digital editions, exclusive podcasts and playlists and an actual bookmark, as if printing a magazine in 2021 wasn't old fashioned enough.
6-month and full year memberships are available now. Fancy it?