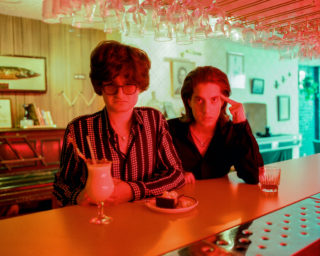 Sons of Raphael perform 'Eating People'… in front of the church congregation at an all-boys school
They're brothers Loral and Ronnel
For their debut single 'Eating People' it's like London duo Sons of Raphael asked the question: 'where could we perform our music where it would be least at home?'
The answer: probably midway through a church service being held an an all-boys boarding school.
So, here they are, brothers Loral and Ronnel, bewildering the congregation with their squally debut track 'Eating People'.
We interviewed them in the latest issue of Loud And Quiet – read the digital version, or pick it up in these places – or at least we tried to, until the conversation was interrupted by a guy in a tracksuit claiming to their bookie wanting to collect their debts.
Just a hint at the mythologised world Sons of Raphael are seeking to create.
'Eating People' will be released alongside another track, 'Rio' as a double A-side on 17 November, via Moshi Moshi. 
Soon, they're playing these places:
London, Paper Dress Vintage – 12 October
Birmingham, Institute – 21 (supporting Metronomy)
Brighton, Dome – 22 (supporting Metronomy)
Free Protomartyr flexi disc with this month's magazine
Subscribers to Loud And Quiet now receive a limited edition flexi disc of a rare track with their copy of the magazine
This month's disc is from Detroit punk band Protomartyr