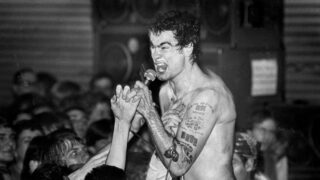 Primer playlist: L.A. hardcore 1977-1985
An aural deep dive into the rise and fall of LA's legendary hardcore scene
Paul Thomas Anderson's Liquorice Pizza is a strange film. I have to admit that it left me a bit cold when I watched it a few weeks back, finding it more to be a series of loose vignettes than a movie that told you anything that you didn't already know. What it did get right, though, was its portrayal of 1970s LA with all its twee, cloying 'niceness'. It was something the Minutemen's Mike Watt picked up on in a recent episode of the 33 1/3 podcast. "Almost everything back then was covered in this sheen of niceness," he told the host while reminiscing about his early experiences of punk – "it made everything feel like it was a fucking Nuremberg rally!"
When you look at it that way, the roots of LA's punk scene suddenly make sense. In the late 70s, it must have felt like culture and real-life were in the middle of a messy divorce. Rock musicians of all stripes were promoting a life of drug- and money-fuelled avarice while society was quietly going the other way. People were pissed off and ready for something confrontational, so when the first hints of the Ramones, The Sex Pistols and The Clash began appearing on alternative radio, it found an audience primed to pick up what was being laid down.
The groundwork for what was to become hardcore was laid by bands that reflected the tensions of their home town. Caught between Hollywood glitz and the blue-collar car workers of San Fernando Valley, LA's early punk acts combined flair with naked antagonism. Germs, led by Darby Crash, a troubled teen who trod a fine line between nihilistic self-destruction and impressionistic lyricism, pioneered sloppy, intoxicated live shows set, which would go on to the standard for the riotous punk shows that would come to typifies LA's approach to punk. Other acts soon followed, including the more blues and jazz-influenced X, and Angry Samoans, a garage-rock fuelled punk act formed by rock writers 'Metal' Mike Saunders and Greg Turner.
The elements of hardcore were all there; Black Flag was arguably the first band to put them together. Driven by Greg Ginn, whose myopic vision and fierce work ethic enraptured as many people as it repelled, 'Flag' as they were known locally, quickly made punk into something of their own. Their music was fast, heavy and uncompromising, with fiercely non-conformist lyrics exploring concepts such as social isolation, neurosis, poverty and paranoia. They also toured like it was going out of style, pioneering the DIY ethic that defines US punk in the 1980s. Ginn's single-mindedness meant many couldn't stick Black Flag for long, and the result was a revolving door of singers and musicians and a sound that evolved rapidly. 'Six Pack', the song on this primer, is from Damaged, the band's 1981 debut album, and was arguably the only true hardcore full-length the  band released. Legal troubles meant that the band wasn't able to put out new music during the heyday of the early '80s, and by the time My War arrived in 1984, the band had already begun to move on – exploring slow-tempo sludge rock, metal and spoken word.
Black Flag blitzed also became a clearinghouse for a series of like-minded acts. Circle Jerks, founded by ex 'Flag singer Keith Morris and Red Kross guitarist Greg Hetson refined the style further, doubling down on the aggressive, athletic aspects of the sound and bringing the culture closer to the surfer-jocks and skateboarders that inhabited Hermosa Beach. Minutemen, on the other hand, threw more influences into the mix. Signed to Black Flag's own SST label, their free-thinking, 'anything goes' approach to music meant that they moved between folk, free-jazz and funk elements. 
In the wake of Black Flag and their acolytes, hardcore quickly picked up speed. Attracting younger kids from the LA suburbs, the scene kicked back at the 'artsy' new wave scene that was beginning to take over Hollywood by leaning hard into punk's confrontational elements. Bad Religion, for example, bashed out fiery social commentary and atheistic sentiment with relentless, melodic intensity, while Youth Brigade (not to be confused with the DC hardcore band of the same name) looked to British Oi! acts like Sham 69 to create earnest, community-minded punk rock. On the other hand, The Descendants, fronted by bespectacled lead singer Milo Aukerman, brought a nerdish energy to their shows, inspired by coffee, The Ramones and surf-punk.
As well as taking root in the Los Angeles suburbs, hardcore also began to find a home in Orange County. This collection of affluent suburbs to the south of the city known for its 'law and order' politics was an improbable hotspot of activity. A small scene grew up in Fullerton producing acts such as The Vandals, Social Distortion, Adolescents and Agent Orange. Long Beach's T.S.O.L. (True Sounds of Liberty) could be the poster boys of this scene. A group of surfer types who knew how to handle themselves, the band revelled in the physicality of hardcore and quickly became the band of choice for anyone who liked the more warlike aspects of the scene.
It was through these violent tendencies that the scene started to unravel. By 1984 Black Flag, Circle Jerks and T.S.O.L. could pull impressive crowds, but the intense violence that characterised their shows had begun to warp the scene in disturbing ways. At first, the backlash had come from mainstream culture, with shows such as Quincy ME using the genre as the foil in a panicky episode that painted punk as a  threat to America's youth. The cops weren't far behind. The LAPD began showing up at shows and often wading into the crowds with billy clubs. As always, violence begets violence. It wasn't long before the attitudes within hardcore became ever more reactionary – with hardcore crews often beginning to take on the demeanour of street gangs. These last convulsions of Los Angeles hardcore scene are the most aggressive, with acts like Circle One and Suicidal Tendencies (who featured Thundercat on bass) embracing the gang aesthetic and tough guy mentality. By 1985, it was over, shows just didn't feel safe anymore, and with many of the original bands parting ways, the momentum began to ebb away. 
For a style of music designed to be fast, uncompromising and belligerent, LA's hardcore scene casts a long shadow. Even in the immediate aftermath, the scene's offshoots into jazz, funk and noise rock inspired experimental post-hardcore acts like San Francisco's Flipper and fIreHose and would leave its mark in the DNA of the Riott Grrl and the city's early 'hardcore' rap scene. Similarly, the DIY spirit exemplified by Black Flag, Circle Jerks and the Minutemen blazed a trail for US alternative rock, creating a nationwide circuit that spawned REM, The Replacements, Meat Puppets and Jane's Addiction. However, hardcore's most long-lasting, most philosophical afterglow might be its democratisation of popular music. Forever striving to simplify and reduce music down to just message and energy, it showed how creativity could be accessible to almost anybody, regardless of background or skill level. 
Listen on Spotify
Listen on Apple Music
Listen on YouTube