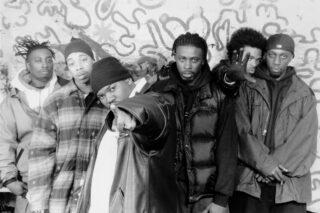 Primer playlist: Wu-Tang Clan
Our member-only guide to the enormous back catalogue of one of hip-hop's most vital groups: Wu-Tang Clan
Nine MCs, one focus: that's 36 Chambers. Enter the Wu-Tang (36 Chambers) remains the obvious and only starting point with the Wu-Tang Clan. Revered as one of the great hip-hop records, Enter's production is grainy and gristly, as RZA weaves Kung-Fu film samples into its fabric to create something that feels truly out-there even now.
But perhaps the greatest thing about Enter is that it serves as an introduction to nine rappers, all of them brilliant in their own way. There's the GZA (The Genius), the laidback Pirlo of the operation; RZA, the organiser, whose grizzled production defined the group; Ghostface Killah and Raekwon, the "now-you-see-me-now-you-don't" Inzaghi/Shevchenko strike partnership; Ol' Dirty Bastard, the Ronaldinho, the like of whom will never be seen again; and of course, there's Method Man, Inspectah Deck, Masta Killa and U-God, four more MCs for the ages.
Early on, RZA signed every MC up for a now-legendary "five year plan", wherein each MC would be signed to a different label for a solo album in order to propel the whole group further. This five-year period, between 1993's debut and 1997's double album Wu-Tang Forever is truly the golden age. A supreme producer, RZA worked his magic on each solo album. Method Man's 1994 debut Tical remains a solid offering, with a couple of great singles like 'Bring the Pain', but is ultimately nothing to write home about. His arch-prankster energy remains most effective as a feature (see his verse on Biggie's 'The What').
GZA had a solid record pre-Wu-Tang as The Genius, but it is 1995's Liquid Swords on which this battle-hardened rapper comes into his own. Tracks like 'Cold World' and 'Shadowboxin'' are outstanding, cementing the Shaolin-sampling style into the fabric of hip-hop.
Also that year came Raekwon's mafioso rap classic Only Built for Cuban Linx, inspiring a generation of raconteurs to commit stories of "the hustle" to music; 'Ice Cream' and 'Wu-Gambinos' with Ghostface are the classics, and RZA's beats are musky and addictive. Then came Ol' Dirty Bastard's solo debut, Return to the 36 Chambers. Whilst the solo discographies of the Clan all have moments and merit, ODB's remains the most inspiring. Though all rappers have some kind of precedent, an influence somewhere, dots that can be drawn to find a complete picture somewhere, ODB is something entirely unique – he adds something special everywhere he appears. On 'Brooklyn Zoo' from his RZA-produced debut, ODB keeps up his breathless avant-soul verbal gymnastics atop jolted swagger, while 'Got Your Money (ft. Kelis)' from patchy second album N***a Please sees him become a bonafide R&B star.
Ghostface Killah's solo debut came out in 1996, but unlike most MCs in the Clan, his first isn't necessarily his best. 2000's Supreme Clientele sees comic book samples atop a focused collection of songs, 'Nutmeg' and 'One' as stellar an opening one-two as you're ever likely to hear, whilst the Dilla-produced 'Whip You With a Strap' is the devastating centrepiece of 2006's multi-faceted Fishscale, the most accomplished post-2000 Wu-Tang record.
Inspectah Deck remains the Clan's most underrated member; according to Method Man himself, Deck is one of the best MCs of all time. The calculated observer, he sees chaos unfold around him and improves it; his opening verse on 'Triumph' remains one of the best in the group's career, whilst his "Spider-Man" rhyme in 'Protect Ya Neck' is one of the most memorable opening salvos on any hip-hop song, and his 2010s outfit Czarface may be the only Wu solo outfit still reliably releasing good music.
Elsewhere, RZA's production on the early Wu work stands eternal, and the first Gravediggaz album (Six Feet Deep, not on streaming services) is a trailblazing horrorcore classic. The solo work of U-God, despite his astounding first verse on 'Da Mystery of Chessboxin'', can be boiled down to a few tracks like 'Dats Gangster' from 1999's Golden Arms Redemption.
The beauty of the Wu-Tang is that there's so much to discover. There may be occasional duds, but that's beside the point. When these master swordsmen get it right, they're perfect. Click below to hear all the music mentioned here, and fall in love with them for yourself.
Listen now
Spotify
Apple
YouTube