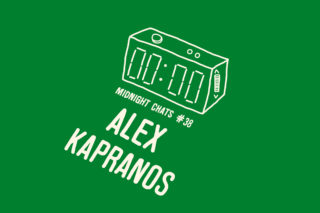 Alex Kapranos: Midnight Chats – Episode 38
Franz Ferdinand's frontman on his Cuban travels, the band's new members and why having a dog in the studio is an excellent idea
A lot has happen since Franz Ferdinand last released an album – 2013's 'Right Thoughts, Right Words, Right Action'.
The world's a different place, and they're a different band. In between the Glasgow outfit had the unique idea of merging with Sparks to create FFS. Shortly after that concluded in mid-2016, one of the four founding members of Franz Ferdinand – guitarist Nick McCarthy – decided to leave the band.
What followed was a lot of soul-searching, as Kapranos explains in this latest podcast. They recruited two new people to the band – Dino Bardot and Julian Corrie – and the newest chapter, their "second decade" began. They're a band – let's not forget, a Mercury Prize/Brit Award winning, Grammy nominated band – determined not to be preoccupied with past achievements, but start over again.
Last weekend, Alex Kapranos cycled down to our office in east London to tell me about this new phase. Plus, talk about his travels in Cuba, how the best band auditions take place in the curry house and why a cockapoo dog was vital to the recording of their new LP 'Always Ascending' (out early next year).
And, in case you're wondering, the book I'm banging on about is this is Lizzy Goodman's 'Meet Me In The Bathroom'. You probably know it already.
Listen back to previous episodes of Midnight Chats including Wesley Gonzalez, Charlotte Gainsbourg, Billy Corgan, Mac DeMarco and more.
We're not being funny...
… but can you become a member please?
It's actually excellent value, and will help us continue to promote new independent artists and labels.
Sign up and you'll receive our physical magazines delivered to your door, our digital editions, exclusive podcasts and playlists and an actual bookmark, as if printing a magazine in 2021 wasn't old fashioned enough.
6-month and full year memberships are available now. Fancy it?