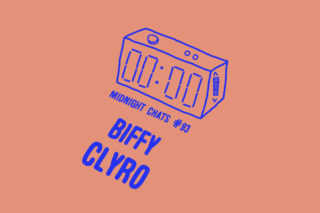 Biffy Clyro's Simon Neil: Midnight Chats – Episode 93
Putting the world to rights
I had every intention of having some light-hearted chat about Biffy Clyro's red carpet attire when I walked into a hotel room to meet Simon Neil on Brit Awards day 2020 back in mid-February.
It didn't turn out like that. We ditched the frivolous stuff and got down to talking about some bigger, more urgent topics like his hopes in Generation Z, international governmental lack of action around the climate crisis and navigating our own personal complicities.
And sure, it isn't going to give you the A-Z on Biffy's new album A Celebration of Endings but, hey, some days other things just feel more pressing.
Loud And Quiet could do with your help
We love making Loud And Quiet – our magazines, this website, our podcasts and more – but it's become increasingly difficult for us to balance the books.
If you're a reader who'd like to help us keep the show on the road, please consider becoming a Loud And Quiet member. There are options to receive our physical magazines and lots of other extras that are exclusive to our supporters.