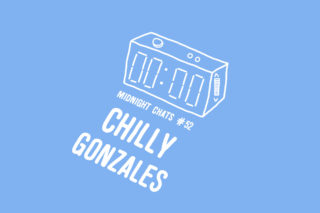 Chilly Gonzales: Midnight Chats – Episode 52
This guy once played a 27-hour show for God sake!
Last year I spoke to Canadian pianist Chilly Gonzales on the phone for a cover feature we did with him and Jarvis Cocker. I got the feeling that Chilly (or Gonzo, as he introduces himself) could sell me the trousers I'm stood in and his exuberance made me want to meet him in real life.
In the middle of our summer heatwave, I did meet him and we recorded this episode of Midnight Chats. We briefly discussed his new album 'Solo Piano III' and spent the rest of our time together talking about comedy, his Guinness World Record, writing songs for other people and his new music school, The Gonzervatory.
Here is it, or listen on whatever podcast app you use, where you can also subscribe to Midnight Chats.
Free Protomartyr flexi disc with this month's magazine
Subscribers to Loud And Quiet now receive a limited edition flexi disc of a rare track with their copy of the magazine
This month's disc is from Detroit punk band Protomartyr