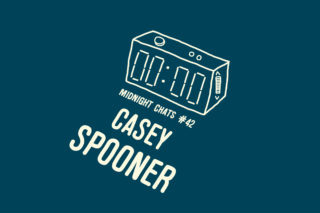 Fischerspooner: Midnight Chats – Episode 42
There's almost a decade to catch up on here
It's been a while since Casey Spooner had the chance to talk up a new Fischerspooner album – almost 10 years in fact. 'Entertainment' was the most recent LP he and his bandmate Warren Fischer put out in 2009. For a bunch of reasons, that release didn't necessarily go to plan. Shortly afterwards Casey decided he was pretty much done with music. But the actor, broadcaster, model, performance artist and self-proclaimed "showbiz party sex clown" couldn't resist the allure of making music again. New album 'Sir' has taken five years to come into being. For all manner of reasons the road to get there has been a bumpy, but ultimately satisfying, one.
Produced by his ex-boyfriend Michael Stipe, it was recorded at the former R.E.M. frontman's home studio in Athens, Georgia during a spell where everything else in Casey's life was in transition.
Simply put: the two-decade long Fischerspooner story – that started in New York city Starbucks in the late 90s, and shot to global fame with electroclash anthem 'Emerge' – is extraordinary, and frankly there's a lot of life to catch up on. "I love my problems," says Casey in this Midnight Chat. "I've got great problems…"
There are lots of archive episodes of Midnight Chats to dive into – including conversations with Gwenno, Shame, Craig David, Franz Ferdinand's Alex Kapranos, Charlotte Gainsbourg, Mac DeMarco, Laura Marling, Ryan Adams and loads of others.
And if you like what you hear, subscribe to Midnight Chats on iTunes, Acast or wherever you get your podcasts.
Free Protomartyr flexi disc with this month's magazine
Subscribers to Loud And Quiet now receive a limited edition flexi disc of a rare track with their copy of the magazine
This month's disc is from Detroit punk band Protomartyr