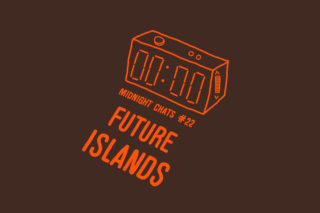 Future Islands: Midnight Chats Podcast – Episode 22
Samuel T. Herring talks about his dance moves, hip-hop and ready-mixed cocktails
If there's one band out there who deserve their success it's Future Islands – the hard-touring, Baltimore-based synth pop trio who suddenly became everyone's favourite new-old band in 2014 following a TV appearance on Letterman.
Most people watching didn't realise that the album the performance was plugging, 'Singles', was Future Islands' fourth record. Then things went a bit nutty for the band – an inspiration to anyone currently touring in a shitty van in support of their second or third record that doesn't appear to be setting the world alight.
Future Islands' singer, Samuel T. Herring, is our guest on our interview podcast this week. I would have happily spoken to him all night. In our time together, in Sam's hotel room near the Loud And Quiet office in east London, we discussed his singing and dancing techniques, Baltimore and hip-hop. We were having such a nice time we forgot to mention the band's forthcoming album 'The Far Field' is released on April 7th via 4AD.
Check out our Future Islands interview from way back in 2010
Subscribe now. Cancel anytime
Go on, give us a go
We love making Loud And Quiet – our magazines, this website, our podcasts and more – but it's become increasingly difficult for us to balance the books.
If you're a reader who'd like to help us keep the show on the road, please consider becoming a Loud And Quiet subscriber. There are options to receive our physical magazines and lots of other extras that are exclusive to our supporters.