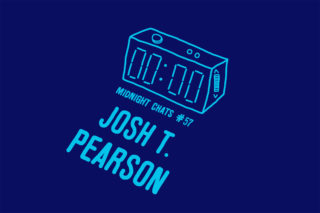 Josh T. Pearson: Midnight Chats – Episode 57
Recorded live on stage at End of the Road festival 2018
It's rare that we take Midnight Chats into the outside world but for special occasions we do, and this episode is a reminder of why that can be pretty fun.
Recorded in front of an audience at this year's End of the Road in September Josh T. Pearson – frontman with Texan rockers Lift To Experience – rocked up on a festival golf cart minutes before we started recording.
He – like many of us – was seeing off the remnants of Friday night's festivities as we took a seat on the festival's woodland Piano Stage to chat about his new country comedy album ('Country-versy'), how social media "might be the Panopticon of our times" and the chances of Lift To Experience doing some more shows (they reunited for Guy Garvey's Meltdown in 2016). Oh, and it's Josh T. Pearson, so there was just enough time for a rude gag about Willie Nelson.
Subscribe to Midnight Chats on Spotify, iTunes, YouTube or wherever you get your podcasts. Josh T. Pearson is also back in the UK later this year, playing St John on Bethnal Green in December.
Free Protomartyr flexi disc with this month's magazine
Subscribers to Loud And Quiet now receive a limited edition flexi disc of a rare track with their copy of the magazine
This month's disc is from Detroit punk band Protomartyr