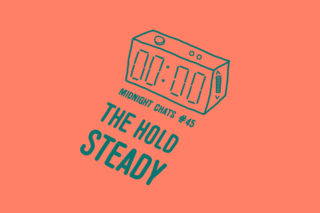 The Hold Steady's Craig Finn: Midnight Chats – Episode 45
"I tend to like instructional drug rap"
There was a time where The Hold Steady would play 200-odd shows a year. That was more than a decade ago now for the Brooklyn-based band who formed in 2003. It kicked off at a furious pace as they released five albums in their first seven years as a group – including 2006's breakout record 'Boys And Girls In America'. These days they take it a little slower – but band leader Craig Finn's slow pace is still faster than most others regular work rate. In between The Hold Steady's output he's continued to put out a steady stream of solo releases, including last year's 'We All Want The Same Things'.
Back at the start of March The Hold Steady were in London for something of a weekend takeover – three shows over three nights, including a tiny bar-show where they were sitting down ahead of the gig to have a traditional British roast dinner with their fans.
That's the starting point of our conversation that also touches Craig's thoughts on social media, how they've cultivated their dedicated fanbase and why he wants to learn something about business when he's filling his ears with aggressive rap music.
Ah yeah, and sorry for my snotty sounding intro. I'm feeling better now.
Free Protomartyr flexi disc with this month's magazine
Subscribers to Loud And Quiet now receive a limited edition flexi disc of a rare track with their copy of the magazine
This month's disc is from Detroit punk band Protomartyr