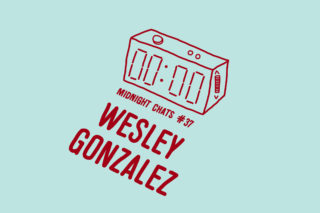 Wesley Gonzalez: Midnight Chats – Episode 37
"You know I'm a foul-mouthed piece of shit"
Earlier this year, I spent a day with Wesley Gonzalez walking into the guitar shops of London and asking the people working there to listen to and critique his new music. Wesley found this particularly funny because although he'd spent the previous 10 years playing guitar in an indie band called Let's Wrestle, his debut solo album, 'Excellent Musician', doesn't feature the instrument at all. The results of this experiment were less than fruitful so we went for a Mexican lunch instead.
We talk about this in this week's podcast, and if you want to remind yourself of that carry-on, here's that cover feature from April.
Since I saw him last, Wesley has been making the best low budget videos of 2017, including his Ibiza bender for 'In Amsterdam'. That's pretty much were we start this conversation so I've embedded it below here. Maybe take a look at its glory before pressing play on the podcast, and then stay tuned for stories of record shop life, upsetting The Fall and trying desperately to throw a job interview at Sport's Direct.
Subscribe to Midnight Chats on iTunes or wherever you get your podcasts from to receive a new, loose conversation every other Thursday at 00:00am.
Free Protomartyr flexi disc with this month's magazine
Subscribers to Loud And Quiet now receive a limited edition flexi disc of a rare track with their copy of the magazine
This month's disc is from Detroit punk band Protomartyr