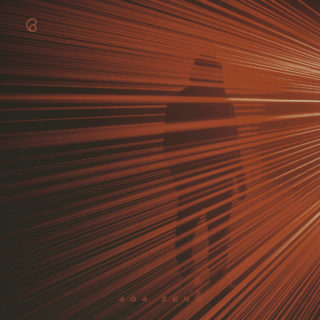 A NOTE: LOUD AND QUIET IS IN DANGER OF CLOSING. PLEASE CONSIDER SUBSCRIBING TO OUR MAGAZINE OR MAKING A SMALL DONATION HERE. THANK YOU.
There's something difficult and yet almost facile about evaluating ambient music of any kind — music that, one suspects, is designed to confound time and space, thought and response. Introspective slowness seems antithetical to life inside late-stage capitalism, a realm in which speed and efficiency is prized above all. That was my initial response to 404.0, the sorta-self-titled debut LP from Russian duo Kristina Karpysheva and Alexander Letsius, aka 404.zero: never mind giving this a score out of ten, who even has the time to sit with it?
It just so happens that, given the context of this writing in the midst of global nationwide lockdowns and, for many of us, a resulting stretch of days that seem to fall outside time, ample with opportunity to simply be with yourself and the existential crises that occur every hour on the dot, the release of 404.0 couldn't have been more apt.
Like our endless, numbered days, the body of 404.0 folds into itself into a gargantuan whole, such that all 404.zero could do was label each track with numbers and a letter. It doesn't matter that the enormous '404_7' is almost four times the length of '404_4'; the anonymity of each track title ensures that one essentially bleeds into the other, allowing for each droning moment and slight flutter of movement its own part to play in the whole. But the true success of 404.0 is the subtlety of these changes, so slight that they almost don't appear to happen at all.
Like Stars of the Lid's The Ballasted Orchestra or Merzbow's slower, more meditative longform recordings, 404.0 is so full of elemental noise, whirring tremolo effects, breathless and airy respite, and sounds long removed from their original source — whatever they might be — that it eventually absorbs the ambience of the room you're sitting into an ever-present and confusing realm of abject terror and curious bliss; a place where nothing ever happens.
Please support Loud And Quiet if you can
If you're a fan of what we do, please consider subscribing to L&Q to help fund our support of new musicians and independent labels
You can make a big difference for a few pounds per month, and in return we'll send you our magazines, exclusive flexi discs, and other subscriber bonus bits and pieces
Try for a month and cancel anytime