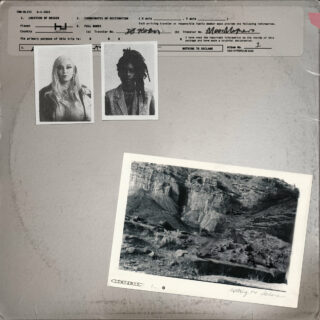 700 Bliss
Nothing To Declare
(Hyperdub)
6/10
Despite differences in style and background, Philadelphia artists Moor Mother and DJ Haram cross over in some very significant ways. The former is a poet-activist who wrestles Afrofuturist epics out of searing noise, the latter is a selector who arranges Middle Eastern voicing alongside Jersey, Baltimore and Philly club music. Thematically, the survival of cultures, practices and identity runs deep on both accounts, but so too does a vicious refusal of monolithic structures altogether.
That said, there's always been a certain heightened level of liberated creativity shot through the duo's collaborative 700 Bliss project, one that's come to animate their debut album Nothing To Declare. Moor Mother turns over pithy lines with her familiar snarl and menace, while DJ Haram centres her rhythm around her crunchiest club beats, but every now and then they'll each find ways to disarm through far goofier means. "Spit this shit better than Shakespeare," Moor Mother quips on the opening title track, as the tenor of her voice is looped and manipulated into hyped parrot squawks by Haram's production. Feature guests (Lafawndah, Orion Sun, Ase Manual) add touches of class to the proceedings, but the LP shines when its core members are let loose to pester the listener, like two precocious school kids with access to studio equipment and heads full of hip hop braggadocio and booty bangers.
Naturally, that descriptor won't appeal to everyone. In fact, for all its cartoon mallet bluntness, Nothing To Declare doesn't stand up all that well on its first listen. It feels all too DIY, and occasionally unlistenable (particularly where the 'skits' are concerned). But if the sound of two 'serious' artists gleefully making something this chaotic, funny, and occasionally brilliant – and cheekily declaring themselves geniuses in the process – is resonant, or perhaps simply appealing, Nothing To Declare will likely have you circling back.