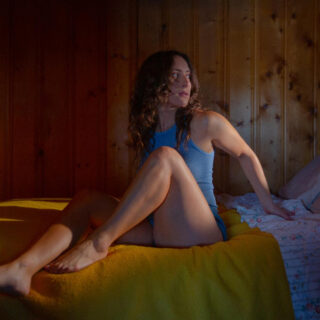 A.O. Gerber's second album is a study in reflection. Dissecting her past and childhood, she picks apart the so-called good from the bad to discover the in-between, the grey area where most things exist. Exploring this twilight zone of memory, she asks her listener to meet her there with the same 'take it as it is' mindset. Meet Me At The Gloaming puts an avant-garde slant on indie songwriting and delivers a record of comforting ambient music. An autumnal release seems quite fitting; as the light comes in on this record at more and more of a slant, the evenings creeping in like an imaginary monster. 
Confronting an unconventional upbringing, Gerber's approach is not one of scorn or vengeance. Instead, 'You Got it Right' has a Studio Ghibli sense to it. The gentle piano and echoing vocals are bright and then break down into slowed drums and playful layered textures. The told-you-so feel of the lyrics discuss how one can pander to others' perceptions, but once you start to be associated with a certain quality, that's all you really want to be. 
Combining the earthiness of Adrianne Lenker with the tranquillity of Weyes Blood, Meet Me At The Gloaming emphasises the softness of indie rock. 'Looking for the Right Things' sees traditional harsh riffs replaced with filtered melodic plucking and 'Just a Child' lets strings take the spotlight. Airy drums and grounding acoustic guitar make wonderful dancing partners to the orchestral guests. 
Produced mostly in seclusion, Gerber took the time to think about the past. Not as something to fight against or construe into something different but to show the spectrum of memory and reality. Closer 'Only Mystery' beautifully captures the eye-opening experience it can be to distinguish what once was only right and wrong into the complexity of everything between. She asks "Was I good enough?" as a crescendo of synths, guitar and violin sparkle. 
A guidebook for those experiencing personal transformation, Meet Me At The Gloaming sees A.O. Gerber join a lineage of female musicians who are reinventing what it is to be open and honest. Interweaving experience with emotion, Gerber looks at her reality without any harshness but with a gentle eye of acceptance. As its poignant instrumentation elevates her thoughtful lyrics, Meet Me At The Gloaming looks forward gracefully to the light of day rather than dwelling in the previous darkness.