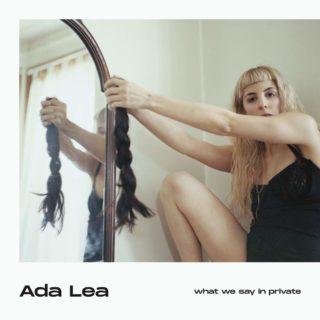 Ada Lea
What We Say In Private
7/10
The title of Ada Lea's debut album hints at late night confessions and intimacies. What We Say in Private does have these moments, especially on the solo blues of 'Yanking The Pearls Off Around My Neck'. Yet initially conceived as a concept record of two distinct sides, it's also infused with breezy colour.
The one-woman project of Montreal-based Ali Levy, its duality is part borne of the jazz graduate playing indie. This brings unexpected details and structural twists to the material. 'Wild Heart' is a case in point. Essentially an intimate folk-pop number, on which her fingers can be heard sliding on the fret board and her voice softly brushing against the listener's ear, it slides into oddness with a mix that occasionally turns up the clattering percussion.
'For Real Now (Not Pretend)' – one of three tracks that have been re-recorded from 2017's demo release Bored – also skews generic indie with slightly out of synch spoken word lines and increasing distortion. This makes it sound like a finger has been smudged across the tape, which continues to rough up the intentionally loose playing on 'What Makes Me Sad'.
These deeply human details are deepened by the sound of the outside world seeping into the recordings. 'The Party' ends with traffic noise and 'Just One, Please' opens with bird song and pitch-shifted dialogue, creating tracks that are simultaneously private in their loss and outward looking in their optimism of love.
New monthly memberships available
Here's a new thing: our membership scheme now has a pay-monthly option, plus a load of exciting new digital stuff for people who support what we do. It's actually excellent value, honest, and will help us continue to promote new independent artists and labels.
Sign up and you'll receive our physical magazines delivered to your door, our digital editions, exclusive podcasts and playlists and access to our EXTREMELY glamorous Members Lounge. You'll be the envy of all your friends.