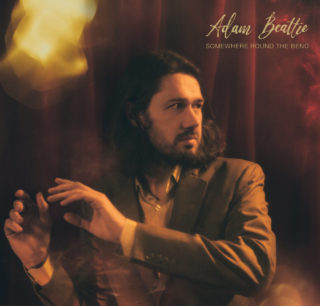 Adam Beattie
Somewhere Round The Bend
8/10
Aberdeenshire balladeer Adam Beattie's fifth studio album Somewhere Round The Bend furrows the pockets of Rabbie Burns and William Burroughs with equal reward; soft acoustics twist between the blooming countryside of the Scottish Highlands and the motoring city life of the London underground. Seedy gypsy swing riffs tap on the windows of gorgeous pastoral lullabies with grubby fingers, and songs of the city breathe with a homely wistfulness. 
In the well-romanticised mythology of the starving artist, Beattie may well be folk music's answer to Van Gogh, singing poetic cadences on street corners for cigarette butts since his debut Abu Bozy, through to collaborative releases with Rough Trade-signed PicaPica and many-headed supergroup Band of Burns across two decades. Standing alone with help from acclaimed songwriter Fiona Bevan, Somewhere Round The Bend finds him at the intersection of Bert Jansch and Chet Baker; wavering jazz falsettos nestle into traditional melodies and Balkan folk rhythms. It sounds like he's lived many lives and has twelve songs on which to calmly patch them together.
'Lovers Old and Lovers New' stings with a deep-blue happiness, dedicated to the closing of the legendary Jamboree in Limehouse where Beattie played regularly, resonant with the number of independent music venues currently fighting for their survival ("We all knew the ship would sink, but no one likes to think about it"). Samples of live shows puncture the album like social palimpsests, closing 'Lovers Old' with a lounge bravado, nourishing a brass huff in the lilt of 'Sickle Red Moon' ("The band was playing tenderly") and navigating a minute-long interlude in the fanfare of Italian festival 'Grottammare'.
The cool ebb of the album is mesmeric. From the title-track's industrial clank to the soft-footed 'My Luv Was Here', nose-deep in the works of the Scottish Bard, Beattie shines the smoothest edge of London's bohemia. 'All The Gods' is a closing highlight – as good a love ballad as has been released this year, blinded by infatuation and obscene grandiosity ("All the gods sleep soundly now knowing you are in my arms").