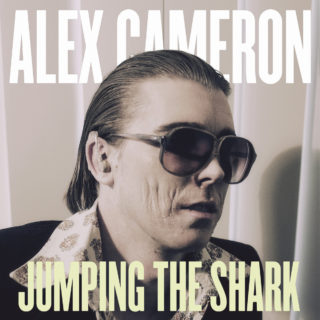 Alex Cameron
Jumping The Shark
8/10
Mac DeMarco has long left behind what he once called "jizz-jazz" – the semi-novelty sound of his 'Rock and Roll Nightclub' debut EP, where he slowed his vocals to make them slur like a grotty Chris Isaak. "Slippery, sloshy, funky, underbelly music," he called it, and if you miss that side of DeMarco, Alex Cameron is now your sleaziest guy in the club.
'Jumping The Shark' is a record made by an Australian wrapped up in his own myth-making (he told us last month how he used to disguise himself as an old man and ride trams all day, where his "business partner" and saxophone player Roy works as a conductor; he has ridiculous T&Cs on his site for anyone wanting to interview him).
Cameron does indeed slosh his way through it, clearly inspired by Bruce Springsteen but coming off more like Brandon Flowers' take on Springsteen, if The Killers had recorded on a budget of five bucks. By the sound of 'Jumping The Shark', that really is the only way to pay homage – Cameron's lo-fi approach (the thin electronic drums and blobby keyboards) smacks of a man fully aware of how far he is from playing a stadium, and he revels in the character he's built for himself: a cabaret underdog sure that he already is "Mr Showbiz" (a Cameron term), if only others would notice.
None of this to say that 'Jumping The Shark' is a farce – it's fun, and Cameron is a ham, but as he croons to a stop, "Mr Showbiz" sounds about right.
New monthly memberships available
Here's a new thing: our membership scheme now has a pay-monthly option, plus a load of exciting new digital stuff for people who support what we do. It's actually excellent value, honest, and will help us continue to promote new independent artists and labels.
Sign up and you'll receive our physical magazines delivered to your door, our digital editions, exclusive podcasts and playlists and access to our EXTREMELY glamorous Members Lounge. You'll be the envy of all your friends.