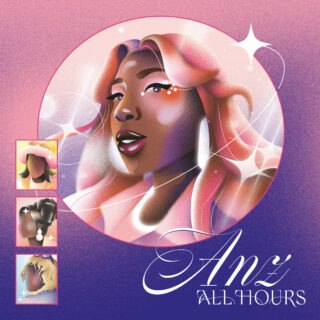 The basis for our days being sub-divided into 24 separate blocks stretches back to Ancient Egypt. To keep track of the hours, the Egyptians used shadow clocks during the day, and at night used a star table to navigate the 'decans', the name for a group of 36 small constellations.
Life has moved on and while shadow clocks and decans are undeniably great, Manchester-based DJ and producer supreme Anz has a new way to help tell the time that's less star tables, more turntables. Across six tracks, Anz's ambitious EP All Hours attempts to map what an all-day dance soundtrack would sound like, using a cosmos of sounds from the UK dance scene to help detail its sky map.
The transit of sound starts ebulliently. 'You Could Be' is a deluge of sunny pop synths packaged in a balanced breakfast of R&B and electro sounds. 'Real Enough To Feel Good' is laid-back, with a slow-tempo house beat nestling up against a calming drum track. It sounds like what I imagine taking a full lunch-hour feels like.
As night approaches, the tempo switches up. 'Inna Circle' is a shower of dub-drunk blasts of slick hedonism, with rampant synths colliding against kapow-ing garage beats. 'Last Before Lights' brings the night to a close with an over-stimulated banger fuelled by all that transpired in the day. Pensive but pounding.
Closer to 24 minutes than 24 hours, All Hours is a buoyant constellational chart for sunrisers and sundowners alike. Handy for when the shadow clock is busted.
New monthly memberships available
Here's a new thing: our membership scheme now has a pay-monthly option, plus a load of exciting new digital stuff for people who support what we do. It's actually excellent value, honest, and will help us continue to promote new independent artists and labels.
Sign up and you'll receive our physical magazines delivered to your door, our digital editions, exclusive podcasts and playlists and access to our EXTREMELY glamorous Members Lounge. You'll be the envy of all your friends.