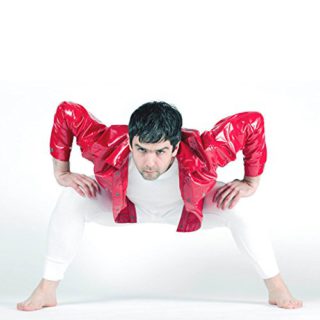 Glasgow native Michael Kasparis has had an undeniably varied musical past. From playing in hardcore groups like Anxiety and The Lowest Form to running his own DIY record label (Night School), he is no stranger to change, which is what 'Choose Life' – his debut LP as Apostille – sees him doing. Although not the first release under this name, and certainly not Kasparis' first electronic output, 'Choose Life' sees a departure from his previous work, a considered effort to tone down the humour found previously (albeit not completely) and build more confidence in his voice. 'Choose Life' sees him making analogue synth Pop (with a capital 'P').
All true pop music speaks to us, and promising an escape from reality through this new album Apostille allows this transformative power to come to fruition. The opening 'Fly With The Dolphin' is a mission statement and testament to what consistently follows – melody and purpose is pushed to the fore, backed to the hilt by brutish rhythmic production, and a deep singing voice that often resembles David Byrne's. 'Feel Bad' then sounds as if it could have been co-written with Kasparis' own label spearhead, Molly Nilsson. 
Of the record he's said: "I wanted to write a song that sounded like you were full but hadn't had enough, so 'Choose Life' is eight of them." He's onto something with this collection that meshes John Maus histrionics with a new romantic light touch, and hitting *NSYNC along the way on 'In Control'. 
Loud And Quiet could do with your help
We love making Loud And Quiet – our magazines, this website, our podcasts and more – but it's become increasingly difficult for us to balance the books.
If you're a reader who'd like to help us keep the show on the road, please consider becoming a Loud And Quiet member. There are options to receive our physical magazines and lots of other extras that are exclusive to our supporters.