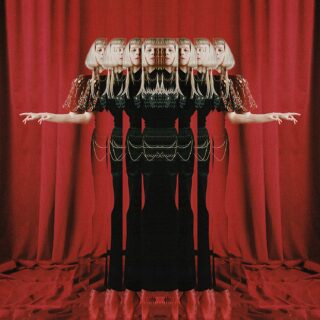 Aurora
The Gods We Can Touch
(Decca)
6/10
Aurora's career thus far has been a story of balancing childlike wonder with lofty ambition. The Norwegian art-pop artist can list the Frozen 2 soundtrack in her resume, but she also writes multi-part albums about climate change that look to Native American folk music for inspiration. She first found fame after a cutesy piano-backed cover of Oasis' 'Half the World Away' got selected for a John Lewis advert. She's now amassed a huge fanbase, after her early single 'Runaway' – a song written at the age of eleven – went viral on TikTok long after its initial release. 
Her latest album The Gods We Can Touch is a more mature and fully realised version of early work, without losing the central playfulness that's coloured her most successful musical moments. It's also an intentionally mixed bag of ideas that explores different kinds of pop catharsis. Aurora moves from the shuffling chamber pop of 'Heathens' to the quirky fairground disco of 'Cure For Me' with ease. 
There are country flourishes on 'A Dangerous Thing', as well as plenty of theatrics, like on the close harmonies of 'Everything Matters', which features French singer Pomme. Throughout, a more direct approach to songwriting means that Aurora can take new sounds into her world without any awkwardness. 
Despite a strong vision and dexterity as a performer, the album does occasionally falter in its generic production qualities. 'Giving In To The Love' aims for anthemic bluster but misses the mark, with Aurora's vocal swallowed up by the stock film-trailer drums on the bleary chorus. The stronger moments are those that allow her performance more space to breathe. 'Exist for Love' is a great example, the warm subtleties of her singing on full display. Like many of her songs, it borders on naïve in its sweet sentiment, but you still get swept up in the wide-eyed spectacle thanks to its creator's infectious spirit.
Loud And Quiet could do with your help
We love making Loud And Quiet – our magazines, this website, our podcasts and more – but it's become increasingly difficult for us to balance the books.
If you're a reader who'd like to help us keep the show on the road, please consider becoming a Loud And Quiet member. There are options to receive our physical magazines and lots of other extras that are exclusive to our supporters.