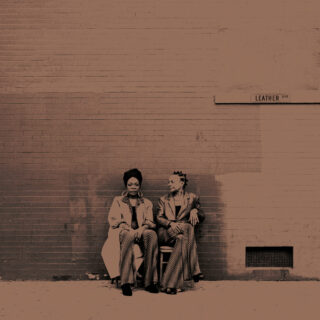 B. Cool Aid
Leather Blvd
(Lex)
8/10
Pink Siifu's musical exploits over the past few years have been phenomenal. The Alabama-born rapper has plundered his way through gristly post-industrial sound collages (NEGRO) and hazy indica rap (Bag Talk with YUNGMORPHEUS), striking gold every time. 2023's first outing sees the multi-genre dabbler return to his project B. Cool Aid with Long Beach beat technician Ahwlee, six years on from their debut project BRWN.
Ahwlee's production oozes character; he effortlessly creates the record's iconoclastic soundworld in the album's opening motifs, with frequent help from jazz quintet Butcher Brown. Across Leather Blvd his beats are G-funk mutations, wherein the gloss and glitz dialled up to the absolute movie maximum. Evocative Old Hollywood Strings and bustling high-end funk give the album the grandiose feel of a well-shot city out of the movies, whilst the A-list cast of features (often three or four per track) provide the album with a vibrant cast of characters.
Often the vocals match the glam, and this works brilliantly – Digable Planets' Ladybug Mecca's velvet bars particularly shine, whilst Liv.e frequently provides backing vocals that illuminate all of the space they inhabit. 
But this B. Cool Aid record is even better when the vocals contrast the polish of the production. Siifu is Best Actor here. He raps like he's gnawing on something (compliment), all teeth and breaths. Moments like opener 'Welcome 2 Leather Boulevard' and 'Wassup' are the best, as his goblin mode stylings forge a magickal Lynchian juxtaposition to the music's majestic sun-soaked beats. 
In the midst of a real hot streak, Pink Siifu cruises down a "Boulevard so hard they named that bitch 'Leather'" with his pal Ahwlee at the wheel. He shows no sign of slowing down.
Free Protomartyr flexi disc with this month's magazine
Subscribers to Loud And Quiet now receive a limited edition flexi disc of a rare track with their copy of the magazine
This month's disc is from Detroit punk band Protomartyr