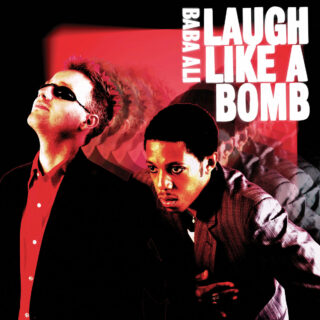 Baba Ali
Laugh Like A Bomb
7/10
On transatlantic duo Baba Ali's 2020 debut Memorial Device you got a vague sense of the Anglo-American grey zone that David Bowie and Iggy Pop inhabited when they were in Château d'Hérouville recording The Idiot, with the insidious Anglo-glam spectacle colliding head-on with the harsh American wasteland. 
On Laugh Like a Bomb, Baba Ali return to intersect the alternative electronic sounds of London and New York in a far-reaching and deceptively deep second album. 
Lead single 'Burn Me Out' is emblematic of Baba Ali's unique sound, harnessing jazzy synths that are scratched through by edgy vocals that perfectly capture our mundane cognitive dissonance in a few bars of sound and evoke the distinct feeling of a mandatory work-life balance webinar you're having to consume after hours. The LP blossoms, however, when there's a full embrace of the two cities' folie à deux, with 'Anesthesia, Beverly Hills', 'A Circle', and 'Bankrupt Funk' all despondent, dynamic and jiving fuckers that really strike a nerve.
Whereas Bowie and Pop found union nightclubbing in the decadent wreckage of dilapidated post-war west Berlin, Baba Ali instead find it zooming through these manic late-capitalist high-finance super-cities. A trashed disco ball of a record that is both the come-up and the come-down.
Free Protomartyr flexi disc with this month's magazine
Subscribers to Loud And Quiet now receive a limited edition flexi disc of a rare track with their copy of the magazine
This month's disc is from Detroit punk band Protomartyr