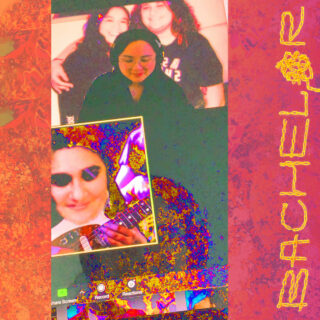 Bachelor is the new project of close friends Jay Som (Melina Duterte) and Palehound (Ellen Kempner). The duo rented out an Airbnb in Topanga last January pre-Covid so they could watch TV marathons together, but also to write and record Doomin Sun' , Bachelor's debut album. The songs' imagery combines fears of climate change, nighttime reverie in 'Aurora' and infectious joy emanating from their bond. The LP features contributions from Big Thief's Buck Meek and James Krivchenia, as well as Duterte's partner Annie Truscott of Chastity Belt.
Doomin' Sun follows the singles 'Anything at All' and 'Stay in the Car,' extending their exploration of the invisible threads connecting Kempner and Duterte to the fragile, beautiful world around them. Bursting out the blocks, 'Stay in the Car' begins with a flourish of heavy bass that swirls like storm clouds above the charmingly melodic vocals dancing far below. Kempner said the song was inspired by her euphoric collision with a stranger in a supermarket car park in Florida. "She was dressed all in red, dripping with jewelry and had the most wild fiery mane I'd ever seen. I wanted to be a part of her life, her best friend, her driver, whatever she wanted me to be. I was completely mesmerized." The chance connection between this woman and Kempner rises and falls like the torrent of explosive guitars in the second half of the track.
"We wanted this song to be a visceral listening experience, inspired by the Pixies and the Breeders," Kempner said of the music video, which was filmed with Haoyan of America and featured '90s props and playful CGI.
Doomin' Sun is many things at once: a deep-dive into queerness, an exercise in vulnerability and the product of an effortless, working relationship where laughing is just as important as focus. Above all, it captures the totalising warmth we feel when we realise we have a friend right by our side. To use the words of 'Sick of Spiraling', it is the constancy of companionship which stops us all losing our footing "in a world so dark."
New monthly memberships available
Here's a new thing: our membership scheme now has a pay-monthly option, plus a load of exciting new digital stuff for people who support what we do. It's actually excellent value, honest, and will help us continue to promote new independent artists and labels.
Sign up and you'll receive our physical magazines delivered to your door, our digital editions, exclusive podcasts and playlists and access to our EXTREMELY glamorous Members Lounge. You'll be the envy of all your friends.