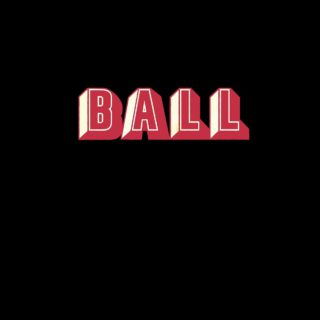 From the 150-second 'Fyre Balls' (lmao) to the 9-minute-long 'Satanas' (lmfao) every track on 'Ball' is built on one or two lumpen riffs that are performed without charm, guile or wit. Or sex for that matter, beyond a sort of grizzled-pintman-at-the-bar lechery. They are repeated ad nauseam, with zero dynamic variation, and one of three things happens: Mr. Ball chats about "riding through the night" or "fire" or some other bollocks; the band mess about with 'weird' sounds, which the average Meatloaf fan would find passé; or someone plays a battle-of-the-bands-ass guitar solo that lasts  f o r e v e r.
The six tracks here are essentially not music for 2017, but rather dated semiotics of music – specifically of the very heteronormative, very conservative, very masculine rockist canon. I'm sure Ball are having fun, but this is the aural equivalent of a flaming skull on a t-shirt. The press release promised me "a nightmare of revolting sounds", but revulsion would require some degree of sonic exploration or a desire to challenge the listener.
We're not being funny...
… but can you become a member please?
It's actually excellent value, and will help us continue to promote new independent artists and labels.
Sign up and you'll receive our physical magazines delivered to your door, our digital editions, exclusive podcasts and playlists and an actual bookmark, as if printing a magazine in 2021 wasn't old fashioned enough.
6-month and full year memberships are available now. Fancy it?