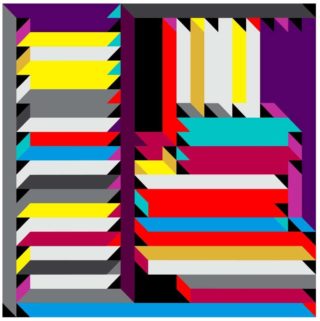 Battles
Juice B Crypts
(Warp)
8/10
Now reduced to a two-piece after the departure last year of bassist Dave Konopka, New York's Battles headed back to their hometown to make an album there for the fourth time. The end product is the giddily unrestrained Juice B Crypts, an LP both fast in terms of tempo and run time and fastidious when it comes to its construction; repeat listens and deeper analysis will potentially throw up some Easter eggs, with the record apparently "encrypted…with hidden codes and secret languages that only [the band] know." Still, it already feels as if there's enough concealed gems revealing themselves on the first few spins; in an inspired move, the pair drafted in Sal Principato of '80s NYC no-wave cult legends Liquid Liquid to bring a typically avant-garde vocal turn to the off-kilter funk of lead single 'Titanium 2 Step'.
Elsewhere, Battles move furiously through a set of musical gears that feel genuinely fresh to them; the opening one-two of 'A Loop So Nice…' and 'They Played It Twice' is an exercise in shimmering techno, whilst there's a controlled chaos to 'Sugar Foot' that, in another coup of collaboration, cements its credentials as the album's closest flirtation with psych by drafting in Yes frontman Jon Anderson and Taipei experimentalists WWWW. There's the odd nod to old Battles, too ('Fort Greene Park' in particular) but for the most part this is a band redefined; by the time Juice B Crypts closes out with the truly frenzied two-parter 'Last Supper on Shasta', it's clear that Battles have taken the handbrake well and truly off. It suits them.
New monthly memberships available
Here's a new thing: our membership scheme now has a pay-monthly option, plus a load of exciting new digital stuff for people who support what we do. It's actually excellent value, honest, and will help us continue to promote new independent artists and labels.
Sign up and you'll receive our physical magazines delivered to your door, our digital editions, exclusive podcasts and playlists and access to our EXTREMELY glamorous Members Lounge. You'll be the envy of all your friends.