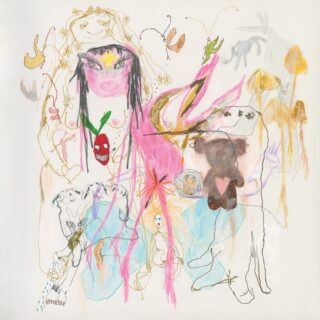 Beabadoobee is a voice of a generation, a multi-talented multi-instrumentalist who has enjoyed success and connected across different audiences. Her native Gen Z may have found her via TikTok or her label Dirty Hit, yet the influences that make up her musical biota are niche enough to appeal to even the snobbiest musos. 
'Beatopia Cultsong' opens her second album, and very much lives up to its name as a fantastical and forbidding portal into a different realm, penned by Bea and her closest friends one night when they were getting fucked up, chanting and playing bongos. It sounds pretentious on paper, but the joy that effervesces from the track is irresistible. '10.36' follows, imbued with twee vocals and childishness, charged by clockwork guitars.

The album's core is built around sketchy '00s pop beats, something that's largely absent from the current landscape of commercial indie, which seems to prefer either the squeaky-clean or the faux lo-fi. Bea is neither, instead sitting comfortably in between; written with immediacy in mind and focusing on the present rather than the past, Beatopia is understated in its execution and scrappy in its compositions.
There's notable sonic expansion on the stunning string arrangements of 'Ripples' and the bossanova 'The Perfect Pair', which sits next to the Latin lounge of 'Broken CD'. On the opposite end of the spectrum, 'Fairy Song' features a demonic breakdown, and 'Tinker Bell Is Overrated' takes its cues from PC Music and hyperpop.
It's commendable that a record this varied feels so coherent, and it's a credit to the songwriting itself, which is incredibly conscious and devoid of cliché. The work of a limitless artist, Beatopia is very much its own world – and its own league.
Free Protomartyr flexi disc with this month's magazine
Subscribers to Loud And Quiet now receive a limited edition flexi disc of a rare track with their copy of the magazine
This month's disc is from Detroit punk band Protomartyr