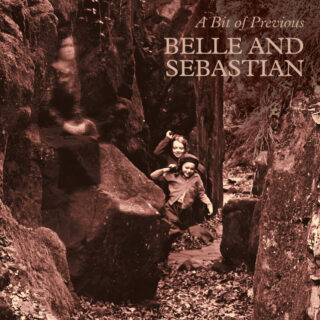 Belle And Sebastian
A Bit of Previous
(Matador)
6/10
Across all the music I was prematurely exposed to growing-up under the guidance of an older sibling, there was one lyric which stayed with me – no, terrified me – and still pops into my mind apropos of nothing: "He had a stroke at the age of 24 / It could have been a brilliant career." That opening line to Belle and Sebastian's third LP, The Boy With The Arab Strap, is one of many instances that crystalises vocalist and main lyricist Stuart Murdoch's inherent flair for crafting grave, lasting stories across the group's engaging early run of material. 
24 years and eight studio albums later, not counting other projects including a festival held on a cruise ship, the Scottish indie-pop septet return with A Bit of Previous, which unfortunately, doesn't exactly match many of Belle and Sebastian's musical high-points of their past. Stylistically, there isn't a unifying thread stitching these twelve songs together, unraveling any semblance of cohesion across its duration. Songs skip between sweet soundscapes ('Do It For Your Country'), pulsating synth arpeggios ('A World Without You'), disco flourishes on 'Prophets On Hold' and some breezy pop numbers infused with a late '90s R&B groove. 
Yet Belle and Sebastian do manage to leave some lasting impressions on A Bit of Previous. The wistful country-waltz 'Deathbed of My Dreams', with Stevie Jackson on vocal duties, emanates a captivating sentimentality. Meanwhile, Sarah Martin sings of the anxiety women share of simply wanting to feel safe walking home at night on 'Reclaim the Night' ("I've got the world to see I was afraid, I ran away / Don't try to follow me"). Its message feels particularly harrowing in light of the numerous attacks on women reported in recent years. Lyrically, this is the kind of song that will resonate long after listening. Ultimately, however, A Bit of Previous lacks a clear tonal throughline to tie this work together for a greater impact. 
Loud And Quiet could do with your help
We love making Loud And Quiet – our magazines, this website, our podcasts and more – but it's become increasingly difficult for us to balance the books.
If you're a reader who'd like to help us keep the show on the road, please consider becoming a Loud And Quiet member. There are options to receive our physical magazines and lots of other extras that are exclusive to our supporters.