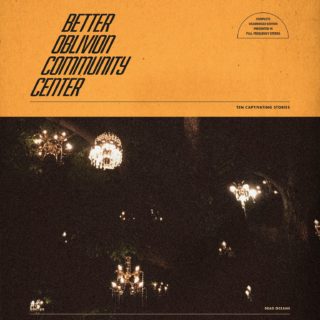 Better Oblivion Community Center
Better Oblivion Community Center
7/10
When you imagine a Phoebe Bridgers and Conor Oberst collaborative album, you can feel the earth parting slightly beneath your feet, and see the metallic slide emerging from the soil that's going to take you down to the nothingness. You can almost feel someone leaning over your shoulder to say: "We're going to a party! It's your party. Happy birthday, darling!"
At the helm of Bright Eyes and Saddle Creek, Conor Oberst's projects over the last three decades have organised confessional rock fans with the downcast enthusiasm of University activists: there were songs for you when indie found emo, when emo found Beat poetry, when Beat poetry just continued to get drunk. And then there's Phoebe Bridgers, who reinvigorated confessional indie with her debut 'Strangers In The Alps', a magnum opus to digital loneliness. The one recording from that project featuring Oberst almost masqueraded the line "you always said that you'd prefer to drown" as a moment of light relief.
Now they're working together to help their listeners find a better oblivion. You can only imagine. 'Better Oblivion Community Center' completely avoids being a sob-fest, though, just as boygenius was a bit of a fuck you to the melancholic female soloist being characterised by sad songs while the sharp wordplay and riff-heavy choruses gathered dust in each reviewer's appendix. It's a surreal consultation with culture's history books, a sarcastic narration of LA-dreaming and the troubled artist. In one track's hook, Bridgers and Oberst "want to die like Dylan Thomas", in another they dream of being buried among the celebrities in Hollywood's best Memorial Parks, yearning for fame, even if it's fame-for-fame's-sake: "the man in white slacks sure looks dangerous, and I heard the short one's kinda famous."
Faithful to what came before it stylistically, the album's slower moments are its highlights. 'Service Road' is a cat among the pigeons, an earnest moment among the satire with Bridgers's vocals at their best; 'Chesapeke' is the perfect indie movie end-scene with warbling synths; 'Forest Lawn' is particularly brilliant, with a laid-back guitar pattern and unassuming accounts of the wannabe musician: "you used to sing, with a straight face, 'Que Sera Sera".' On the other side, there's a kid wondering why his hero's playing to no one in a parking lot. When it gets heavier, 'Exception to the Rule' battles through a gratuitous dystopian acid-house bassline; a fuzz-drenched chorus on 'Big Black Heart' feels awkwardly mixed; a thundering J Mascis-sounding solo feels out of place above bird sounds on an otherwise excellent'Dominos'.
If you hunted out for this record before it's announcement you'd have been met with an advert on a green bench at the corner of Sunset and Alvarado in LA, or an online form to receive a brochure. The services offered: Assisted Self-Care, Chosen Family Therapy, Dry Ice Meditation, Free Human Empathy Screening, Sacred Crystal Implanting and Removal, Pineal Gland Expression. You could call a number and hear a pre-recorded message from 'Reverend' Christian Lee Hutson advertising his symposium on Marcus-Gunn jaw winking ptosis. The album's insides are a little less surreal, but a one-part bleak/one-part funny account of standing on the corner hoping to get recognised.
Please support Loud And Quiet if you can
If you're a fan of what we do, please consider subscribing to L&Q to help fund our support of new musicians and independent labels
You can make a big difference for a few pounds per month, and in return we'll send you our magazines, exclusive flexi discs, and other subscriber bonus bits and pieces
Try for a month and cancel anytime