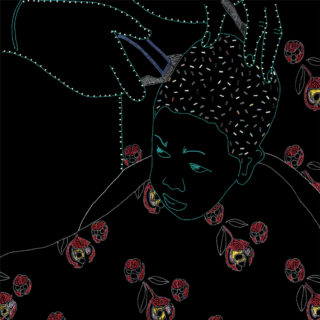 It's been four years since London DIY punks Big Joanie released their debut album, and with their second full length record Back Home, the trio have morphed beyond the archetypal lo-fi punk of their early days, into a weightier force not bound by genre, but by ethos instead.
With the eerie neopagan folk of 'Cactus Tree' opening the record, Big Joanie are intriguing right from the start of their new album. Back Home investigates the different ideas of what the word 'home' could mean, especially to members of diasporic communities. A sense of displacement, of multiple belonging, is really felt in the threads of Back Home, the result often feeling more unsettling than it does assuring or comforting.
There are a handful of truly great songs on the record which stand out above the rest, especially in those moments when Big Joanie bring synths to the forefront of their songwriting more than they have done with previous material. Take the wavy trance of 'Confident Man', or the dramatic and dreamy 'Your Words' which tackle Talk Talk and Siouxsie Sioux-style theatrics. The album's final track 'Sainted' is a true epic too, a dark and twisted fable that's almost prog rock, with dancing synths that protrude through constrained vocals. It's nearly five minutes long, and you don't ever want it to end.
It's in these compositions where Big Joanie's virtuosity feels most coherent and exciting. Less punk? Sure, but capable of becoming real innovators of their craft with cross-genre appeal? Definitely.