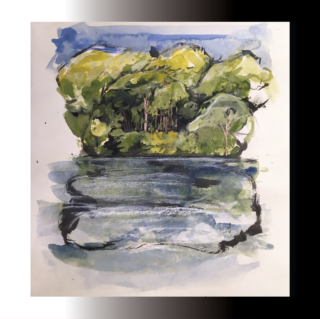 Big Ups
Two Parts Together
7/10
In these times, the improbable now often seems possible, especially when it comes to politics. With that air of unpredictability though comes a sense of uncertainty, that the future can feel unknowable. It's in this grey area where Brooklyn's Big Ups dwell on their latest album. As its own title might suggest, 'Two Parts Together' is an often searing investigation into everything seemingly intangible, a journey into a fascinating metaphysical realm.
During this voyage, Big Ups present deeply textured and shape-shifting post-hardcore feasts. They cut a striking balance between dynamic, blistering chords, chugging basslines, crashing percussion and more languid moments, sometimes punctuated by strings, synthesisers, piano and field recordings. They build up tension only to explode in razor-sharp release. Even on the opening title track, they shift backwards and forwards between frenetic riffs and downtempo passages, introducing the constant duality of the record.
Joe Galarraga vocalises many of the feelings found in this liminal space, veering between almost nonchalance and throat-shredding rasps in the process. 'PPP' forms the album's most hook-laden moment, as Galarraga belts "look into the crystal and see what you want to see," while on 'In The Shade' he presents a more introspective moment, questioning "what's waiting, what's hiding, what's unknown, untapped, in the shade?" On 'Fear' he asks: "which version of the world is the one that will be coming?" It's a difficult question to answer but on 'Two Parts Together' Big Ups present an emotional, cathartic reflection on the more mysterious aspects of life.
Free Protomartyr flexi disc with this month's magazine
Subscribers to Loud And Quiet now receive a limited edition flexi disc of a rare track with their copy of the magazine
This month's disc is from Detroit punk band Protomartyr