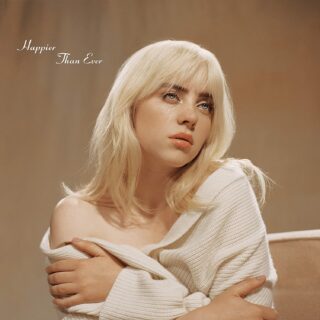 Billie Eilish
Happier Than Ever
7/10
Most of us assumed that that the question Billie Eilish posed with the title of her debut album was a rhetorical one – and that perhaps included Eilish herself. Either way, the stratospheric success of When We All Fall Asleep, Where Do We Go? has ensured that she has an answer of sorts. The dramatic speed at which she went from cult star to the defining pop voice of Generation Z has seen her cross over into a world which must surely feel dreamlike; both in the cliched sense of fame and fortune before she's out of her teens, and in the more tumultuous sense of having to deal with the surreality of celebrity at such a young age. You wonder how often, over the past couple of years, her life has felt like La La Land, and how often it's been closer to Mulholland Drive.
If there was ever going to be a question defining her second record, it would be about how she was handling the blinding spotlight now laser-focused on her; would she retreat further into the highly stylised and often claustrophobic confines of the world she built for herself on her debut, or would she face her new reality head-on? The answer is swift in its delivery; opener 'Getting Older' sets the tone for the rest of Happier Than Ever in its almost conversational interpolation of the realities of her new life into a track diarising the difficulties of maintaining a relationship now that anonymity is a pipe dream – checking in at hotels under fake names, hiding out in the back of the cinema.
Historically, albums dedicated to how the grass isn't greener on the other side, actually tend to come across as self-pitying exercises in the artist's wallet being too small for their fifties and their diamond shoes being too tight. This dynamic tends to be amplified the more relatable the artist previously was, which is why everybody hated the third Streets record. And clearly, for all the artifice and put-on strangeness of When We All Fall Asleep, Eilish is relatable, or she wouldn't have been lifted aloft as their global spokesperson by a generation that already seems to have a better understanding of the intricacies of their emotional health than any that's gone before it.
All of which is to say that Happier Than Ever is a brave record, because Eilish faces down the danger of alienating her fans with thematic ideas that, delivered clumsily, would be unsympathetic. In the main, though, she's deft enough to nullify the risk. 'NDA' takes 'Getting Older's central conceit and has tongue-in-cheek fun with it. 'OverHeated' skewers the toxicity of social media in a helter-skelter tone befitting the subject – she is, by turns, both frightened and mocking. For all of the foreboding imagery that ran through When We All Fall Asleep, it's not until now, with 'Your Power', that she finally makes the blood run genuinely cold, a tale of sexual predation that cuts to the bone.
In among all of this, she finds plenty of room to wander stylistically. The results are mixed. She remains at her best when at her most minimalist, and that can be over anything from Latin-inflected guitar and a shuffling beat ('Billie Bossa Nova') to undulating, atmospheric synth and not much else ('Not My Responsibility', 'Everybody Dies'). Anybody put off by her often mumbled vocals last time around is not going to be converted now, and there is definitely a tendency for them to clash with the instrumentation on the sonically busier tracks, like 'Oxytocin's warped techno or 'Therefore I Am's hip-hop beat.
But what's important to remember is that we're listening to somebody still finding her feet, except that now she's having to do so in the intense heat of a media glare few other artists have been subjected to. The list of now-revered songwriters to have achieved major fame before they were out of their teens is a winding one, and yet surely Kate Bush wasn't quite this harried after The Kick Inside came out, nor Carole King when she released Tapestry. Even Fearless-era Taylor Swift didn't have to contend with the present ubiquity of social media, whilst Pure Heroine-cycle Lorde skilfully retained an air of mystery that Eilish hasn't really been afforded. As it stands, she is not on the level of any of those artists. But she has made an empathetic record about the pitfalls of a gilded life, and she's done it with everybody staring at her. That, in itself, commands respect.
Please support Loud And Quiet if you can
If you're a fan of what we do, please consider subscribing to L&Q to help fund our support of new musicians and independent labels
You can make a big difference for a few pounds per month, and in return we'll send you our magazines, exclusive flexi discs, and other subscriber bonus bits and pieces
Try for a month and cancel anytime