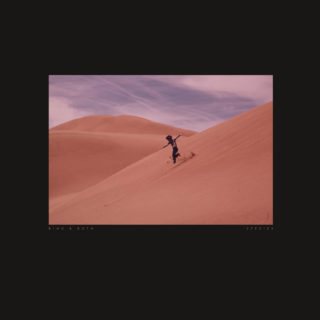 Bing & Ruth
Species
(4AD)
8/10
From a pragmatist's perspective, Species might be Bing & Ruth's least ambitious album. After debut album City Lake involved wrangling an 11-member ensemble and selling the self-released vinyl out of group leader David Moore's basement, and with 2017's No Home of the Mind written on seventeen pianos scattered around the United States, this latest album significantly pares back both the logistics and the headcount.
But, inspired by Moore's passion for the desert and long-distance running, it's a downsized approach in numbers only, with Species' meditative compositions hitting on the panoramic isolation of being out in the middle of nowhere – and revelling in the detachment.
It gives the album a loose, almost structureless feel where the beginning and end are defined, but the journey in-between unfurls and envelops, fluctuating between states of hypnosis and suspension where layers gradually evolve into loops and time seems to get lost.
Backed by fellow Bing & Ruth founder members Jeremy Viner and Jeff Ratner on clarinet and double bass, Moore's fascination with the Farfisa organ creating the bulk of the mesmerism as it oscillates in the slow bloom of opener 'Body in a Room' and drives the lapping melodies of the 13-minute long 'Live Forever'.
And where the former create a satisfying inhale/exhale that moves with a steady, water-like purpose, 'I Had No Dream' is lighter, brighter and more playful, 'Badwater Psalm' ebbs and flows with an all-engulfing organ wheeze, and closer 'Nearer' strips everything back to forlorn ambient flourishes that seep into the dead space on the album's delicately arresting end.
After the complexities involved in Bing & Ruth's previous work, it's curious to see Species veer towards such simplicity. "I'd grown tired, it seemed of looking inward," Moore reflects in the record's press release. "I wanted to look nowhere." Here's to closing your eyes and getting lost, even if it's only for a little while.
New monthly memberships available
Here's a new thing: our membership scheme now has a pay-monthly option, plus a load of exciting new digital stuff for people who support what we do. It's actually excellent value, honest, and will help us continue to promote new independent artists and labels.
Sign up and you'll receive our physical magazines delivered to your door, our digital editions, exclusive podcasts and playlists and access to our EXTREMELY glamorous Members Lounge. You'll be the envy of all your friends.