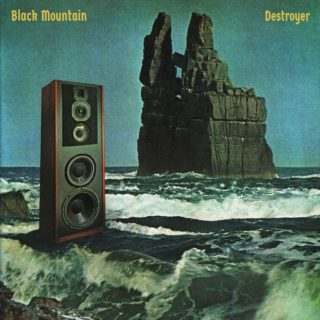 Black Mountain
Destroyer
6/10
It's hard to pin down a succinct description of Black Mountain. The search for one requires wading through multiple layers of misleading tropes and artistic deceptions, which eventually unearths the Vancouver psych-peddlers drenched in heavy metal cynicism, desert rock vigour and punk rock values. Continuing their penchant for abstruse genre meandering and cosmic creativity, the band deliver a fifth long player, Destroyer. Entitled after a discontinued, all-American muscle car, the record arrives parallel to principal member Stephen McBean's newly acquired permit to drive an automobile, coming at the seasoned age of 48.
Purportedly a record structured in portrayal of the long-awaited vehicular liberation and the exuberance experienced behind the wheel of a turbo charged machine. This newfound petrol-powered freedom comes alongside the departure of two longstanding members, leaving McBean with both hands on the proverbial Black Mountain wheel. Destroyer's engine thunders to life with opener 'Future Shade', announcing the now expected presence of chugging, muscular riffs and glam-rock soaked irony (see also 'Licensed to Drive'), but welcomingly refreshed with emergent electronics and some synthetic nonconformities.
'Horns Arising' introduces yet more heavy metal sarcasm with its tongue in cheek title delivering a sound that ranges from The Flaming Lips to Black Sabbath, with a quick stop at T-Rex in the middle. The newfound electronic swagger continues with 'Boogie Lover'. And while that element of their sonic palette it works, complimenting their longstanding rock 'n' roll pomposity.
So with the departure of two enduring members, the destination of Destroyer's road trip was ultimately uncertain. But, with a refreshing new outlook, and praiseworthy development, this particular trip was more Fear and Loathing than Thelma and Louise.
New monthly memberships available
Here's a new thing: our membership scheme now has a pay-monthly option, plus a load of exciting new digital stuff for people who support what we do. It's actually excellent value, honest, and will help us continue to promote new independent artists and labels.
Sign up and you'll receive our physical magazines delivered to your door, our digital editions, exclusive podcasts and playlists and access to our EXTREMELY glamorous Members Lounge. You'll be the envy of all your friends.