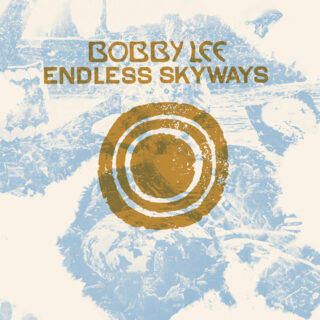 Bobby Lee
Endless Skyways
8/10
Imagine Tinariwen's trance-inducing grooves transported from the merciless sun of the Sahara to the verdant fields of South Yorkshire during the psychedelic season, or Earth's molten riffage reimagined as a vintage Ry Cooder soundtrack. Top off with a working knowledge of motorik repetition a la Neu! and Harmonia, a record collecting music obsessive's encyclopedic grasp on all shades of psych, guitar arts, ambient and kosmische and J.J. Cale's hardy old drum machine, and you have a fairly representative view of the hazy, heady slow-burn instrumental psych-boogie that populates Endless Skyways, the third album from Sheffield-based guitarist Bobby Lee.
All of which might suggest an antiseptically tasteful crate-digging pastiche. However, Endless Skyways doesn't buckle under its illustrious vintage inspirations – it transcends and expands on them. Throughout, we're treated to the panoramic view – mood, texture, expansive vistas – and gradual accumulation of the explorative slow-burn over the quick and often rapidly wilting thrills of juicy hooks and choruses, with frequent hints of the confines of actual lived reality being gently rattled. 
The result is a full infectious blooming of the mood-enhancing promise displayed on Lee's first two albums, the deliciously lo-fi grooves of Shakedown in Slabtown (2020) and the murkily alluring lockdown-era solo explorations of 2021's Origin Myths. Endless Skyways reflects the vibrant forward-momentum of the guitarist's live sets with his versatile rhythm section whilst employing a richer and wider palette that allows for gradual discovery of alluring depth and detail. 
Although Lee is based in Sheffield, Endless Skyways exhibits clear parallels with a US-centric brand of contemporary instrumental guitar music that glides down the  cosmic/kosmische highway/autobahn while retaining traces of the fertile dirt of country and folk under its fingernails. If you strain a little, the jovially insistent gallop of 'Impregnated by Drops of Rainbow' (enriched by the atmospheric weeping of Joe Harvey-Whyte's pedal steel) carries a whiff of William Tyler's more robustly soaring forays through the auburn vistas of the mythical American West. 
That said, Endless Skyways is far too audacious in its combinations of musical ideas to resort to overt borrowing from likeminded musicians, past or present: witness how the unstoppable handclap-enriched stomp of 'Reds for a Blue Planet' crashes the bubbly drone of Canned Heat's 'Poor Moon' headfirst into the loping rhythms and hypnotic repetition characteristic of desert blues from the Sahara region. Elsewhere, the laidback groove of 'Acid Grassland' spikes the beer that J.J. Cale is sipping, whilst 'The HR Manager's Beautiful Daughter' straps the building blocks of classic British folk rock to a spaceship, resulting in a frantic dash around the maypole. Perhaps the most impressive of all, 'Folsom Point Blues' closes the album with a plainly beautiful slice of graceful ambient balm that is equally reminiscent of Neu! guitarist Michael Rother's humbly majestic early solo albums (or the peerless instrumentals by another unconventional guitar hero, the late great Michael Chapman) and an arcane slice of the kind of elemental guitar-solo-y stylings that Lee's label, revered US imprint Tompkins Square, specialise in: a soothing lullaby for our weary times.      
Please support Loud And Quiet if you can
If you're a fan of what we do, please consider subscribing to L&Q to help fund our support of new musicians and independent labels
You can make a big difference for a few pounds per month, and in return we'll send you our magazines, exclusive flexi discs, and other subscriber bonus bits and pieces
Try for a month and cancel anytime