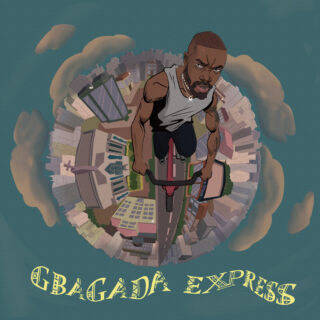 Nobody ever reinvented a music genre in a laboratory; it happens in the open world, incrementally and collaboratively. The story of alté is no different: an emerging generation of young Nigerians watched afrobeats become one of the world's most dominant sounds and found themselves perfectly primed to set about moving it onto the next step. BOJ, aka Bolaji Odojukan, who was raised between England and Nigeria, quickly rose to prominence in the early alté scene in the mid-2010s and then broke into mainstream recognition with his seminal 2018 Skepta collaboration, 'Like to Party'.
Gbagada Express feels like his crowning moment, the most important album-length statement in the movement so far. To attempt to describe alté music is to immediately diminish it – it works seamlessly and intuitively. Notes of R&B, afroswing, banku and trap are all very much detectable, and yet somehow invisible. The sound that BOJ and the producers he works with have honed is decidedly minimalistic, finessing a glassy, spacious clarity into their new alchemical brew, whilst successfully filtering out the impurities and detritus. This is a nourishing, refreshing new potion, and it goes down very easily.
The percussive vocals and irresistible rolling afrobeats rhythm of 'Abracadabra' ring out, with Davido's verses screaming starpower. 'Confarm' and 'Emotions' lean into a dancehall influence, riding out skipping, hiccupping synth patterns and sing-along-able refrains. 'Unconsciously', meanwhile, provides the one moment of introspective, sombre reflection over mournful, lilting guitar licks.
Gbagada Express is many things, but above all it is smooth. Arrangements, instrumentation, intonations and phraseologies are drawn from across the spectrum, but together they lock into one seamless and deceptively simple new form. It could be argued at times BOJ lets this album flow too smoothly, with tracks occasionally not so much vying for your attention as much as aiming not to disrupt your mood, but this is a record that gets by on the strength of its vibe, satisfied, knowing that its unique fingerprint is enough to demand respect.