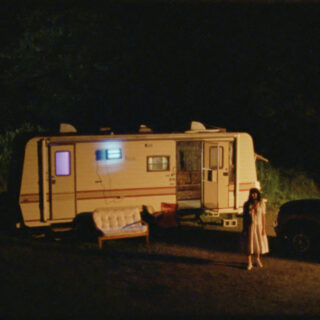 Boy Harsher
The Runner OST
6/10
Electronic duo Boy Harsher return with a soundtrack to their new film The Runner, continuing their usual mixture of sensual underground darkwave and widescreen revivalist synth-pop. Opener 'Tower' proves the most visceral moment, a haunting blend of murmured vocals and glass-like synths that slowly builds to a chugging pace, before descending into a wall of overdriven screams and militant drums. It's a shame that this play of dynamics isn't explored on further tracks.
Elsewhere, the records glimmers brightest when the big pop sensibilities are embraced with both hands. 'Autonomy', with its glittering synth arpeggios and yearning yet punchy bassline, brings to mind New Order at their most unashamedly world-conquering. Likewise, the Italo-disco leanings of 'Machina' featuring Mariana Saldana, mixes cool sensuality with scene-chewing bombast to great effect.
It remains to be seen how the project functions as a soundtrack, though atmospheric mood pieces like 'The Ride Home' and 'Untitled (Piano)' clearly lend themselves to filmic world-building. From the stylised sleekness of Nicolas Winding Refn's Drive, to the futuristic soundtracks of the likes of the original Dawn of the Dead, this genre of music has long proven effective on screen.
As a standalone record, it feels much the same as the group's previous releases: built upon a consistent aesthetic that wears its influences on its sleeve without falling too far into the pastiche trap; most importantly, it's delivered with an ear for hooks that cuts through the moody, basement club exterior.
Loud And Quiet could do with your help
We love making Loud And Quiet – our magazines, this website, our podcasts and more – but it's become increasingly difficult for us to balance the books.
If you're a reader who'd like to help us keep the show on the road, please consider becoming a Loud And Quiet member. There are options to receive our physical magazines and lots of other extras that are exclusive to our supporters.