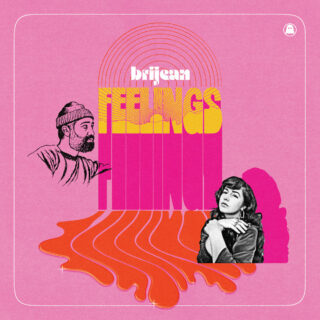 The jazzy electric keys, conga-led beats and buoyant bass that colour Brijean's Feelings all gently lead to the poolside. It nails its sun-drenched atmosphere, as you'd expect from percussionist Brijean Murphy and bassist Doug Stuart, veteran session musicians who've used timeless tropicana grooves as the centre of their jams on many a record. Close your eyes, and you could be drifting away on a lilo; listen closer though, and it's not just carefree escapism that drives this record, but connection and self-assurance. 
With the sturdy backing of her band to handle the grooves, Murphy dives freely into bolder songwriting and personal reflection. Her voice is gentle but commanding throughout, and her verses are peppered with subtly moving mantras. Like the best party music, it works just as well in a solitary setting, where you can soak up its details. 
That's not to undersell the instrumentals though. These are seriously well-crafted tracks, every corner filled with clever flourishes and strong interplay. Stuart gets a moment to shine on 'Wifi Beach', with its playful, propulsive bass lick. The interlocked bass and drum grooves anchor the project and act as a response to the introspective lyrics. Feelings is a reach outwards as well as inwards.
Subscribe now. Cancel anytime
Go on, give us a go
We love making Loud And Quiet – our magazines, this website, our podcasts and more – but it's become increasingly difficult for us to balance the books.
If you're a reader who'd like to help us keep the show on the road, please consider becoming a Loud And Quiet subscriber. There are options to receive our physical magazines and lots of other extras that are exclusive to our supporters.