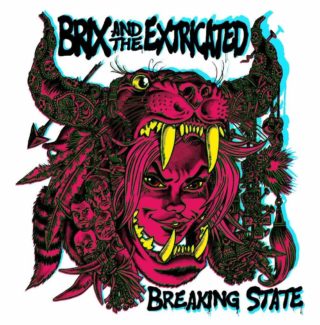 Brix & The Extricated
Breaking State
7/10
A band comprising of ex-Fall members, reworking classic Fall songs, was always going to be a divisive act. Indeed, Mark E Smith was The Fall, but Brix Smith-Start also played a crucial role during the height of the group's existence – if she co-wrote 'Hotel Blöedel', then why shouldn't she be able to do what the hell she wants with it?
But unlike their debut album, confusingly titled 'Part 2', 'Breaking State' strictly focuses on brand new material. Still, naturally the spirit of The Fall haunts this record, in a way that's subtle, as though it's an intrinsic aspect of their musicianship. There is no escaping the potency of Steve Hanley's skilful bass playing, for instance – a chugging, aggressive style and the driving force behind some of the most memorable tracks here, particularly the opening 'Alaska'. Elsewhere, the rockabilly tinge of 'Prime Numbers' is buoyed by the technical dexterity of Jason Brown's guitar contrasting the chiming delicacy of Steve Trafford's atmospheric riffs.
There are moments here that dangerously delve into generic rock 'n' roll territory, but there are occasional instances of post-punk idiosyncrasy that brings the record back to life: the sporadic, jagged belligerence of 'Dog Face', for example, elicits the bold experimentation of New York No Wave.
Brix's pop prowess also shines brightly throughout: there are even times when 'Breaking State' recalls the likes of Blondie during their prime, particularly on 'Heavy Crown'. This is an album that's lyrically emotionally engaging. It denotes hope and female empowerment and you can tell that this process was a cathartic experience for Brix. And with a backing band with as much history as this, it'd be pretty hard to get it wrong.