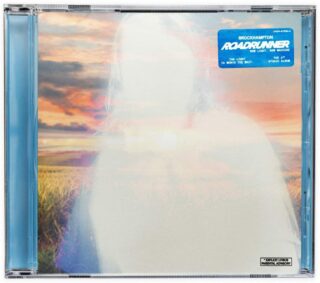 Brockhampton
ROADRUNNER: NEW LIGHT, NEW MACHINE
7/10
Maverick LA boyband BROCKHAMPTON have always been difficult to really pin down, but as the project nears its end they remain a uniquely volatile prospect. ROADRUNNER: NEW LIGHT, NEW MACHINE might well be their penultimate album, but it's certainly varied and ambitious. Club-ready bangers lie hand-in-hand with moments of unflinching darkness, whilst the group journey towards finding the light at the end of the tunnel. It's a patchy effort to say the least, but the peaks are so high that the troughs are easy to ignore.
'BUZZCUT', the Danny Brown-featuring opener, is electrifying; without a shadow of a doubt the group's best individual song to date. Pulsating bubblegum beats are met with a killer verse from the Detroit rapper at his eye-bulging best, whilst Kevin Abstract's magnetic hooks are equal parts punchy and infectious. Abstract's wail of "Who let the dope boys out?" really is as good an opening salvo as you'll hear on an album this year, and the uncharacteristic decision to bring an outside rapper for the opener pays off tenfold. 
The second track is equally potent, and once more a fantastic feature helps to elevate the track; JPEGMAFIA's on the mic, and he delivers zinger-after-zinger, including rhyming 'Duolingo' with 'Dua Lipa' atop oscillating synths. 'DON'T SHOOT UP THE PARTY'  is a nocturnal West Coast nugget, a super-smooth posse cut that has the group sounding their most Los Angeles as they spit over a beautifully dusty G-funk synth. When BROCKHAMPTON aim for bangers on 'ROADRUNNER' they hit way more than they miss.
'THE LIGHT' and 'THE LIGHT PT. 2' are the album's centrepieces, and act as a good counterpoint to the livelier numbers. It's a diptych on which Kevin Abstract and Joba rap incredibly candidly about subjects that hit very close to the bone. Abstract's verses about his sexuality are incredibly touching, and really highlight his chameleonic qualities as a rapper; a far-cry from his air-horn delivery on the opener, it's sincere and beautiful. Joba's verses, however, are utterly devastating. His voice breaks as he comes to terms with his father's suicide, "abandoned by the life-giver" he explores his own mental health difficulties through this prism. 'THE LIGHT' also features some particularly great Western guitar tones and church organs to create a powerful sense of importance, and while a tough listen, 'THE LIGHT PT. 2' is a truly beautiful song. "The light is worth the wait", Joba raps, as the track ends with quite a beautiful sonic resolution. 
For the rest of 'ROADRUNNER', BROCKHAMPTON act the highlights player rather than the MVP. 'WINDOWS' is another brilliant cut, and 'WHEN I BALL' has a charming spontaneity about it, but elsewhere there be blanks. 'WHAT'S THE OCCASION' sounds weirdly like the Electric Light Orchestra, with ascending guitar licks that would find a home in any number of musicals aimed at children, and 'COUNT ON ME' and 'BANKROLL' ft. A$AP Rocky are particularly unsatisfying filler tracks grey-out by fairly uninspired production. 
The pros, however, outweigh the cons. BROCKHAMPTON's sound is all over the place on 'ROADRUNNER', and whilst they do frequently sound far more mature than on previous efforts, they hop genres with real zeal. Come for the Herculean zing of 'BUZZCUT', and stay for what might be BROCKHAMPTON's best album to date.
New monthly memberships available
Here's a new thing: our membership scheme now has a pay-monthly option, plus a load of exciting new digital stuff for people who support what we do. It's actually excellent value, honest, and will help us continue to promote new independent artists and labels.
Sign up and you'll receive our physical magazines delivered to your door, our digital editions, exclusive podcasts and playlists and access to our EXTREMELY glamorous Members Lounge. You'll be the envy of all your friends.