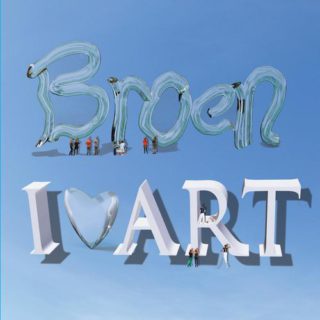 Norwegian five-piece Broen's debut album might be genius - but it might also be folly
In the mid-twentieth century, experiments in art, science and philosophy that had been happening throughout Europe and North America since at least the end of WW1 exploded in the now-legendary avant garde scene of the 1960s and '70s. Performance artists, writers, visual artists and musicians threw off the shackles of form and genre, creating works that were confusing, confrontational and conceptually complex. Think of the Serbian performer Marina Abramović, sat passively in a gallery, with objects including a gun, a bullet, a rose, a feather and a scalpel on a table nearby, inviting the audience to use them on her however they pleased. Or writer Kathy Acker fellating poet-artist Alan Sondheim in the controversial, confessional pornographic 'Blue Tapes' video. Or women licking jam off a car for one of Allan Kaprow's 'happenings'. The point wasn't whether what you made was any good; the point was that you made something – and if it was unlike anything anyone else had ever made, then all the better.
It is this experimental spirit that Norwegian five-piece Broen channel in their joyful debut record 'I <3 Art' – a baffling mash-up of sounds and influences that guitarist Lars Ove Stene describes as everything from Flying Lotus and Kendrick Lamar to Talking Heads and Paul Simon. Like those pioneering artists of the past, Broen are all about mixing it up. "Interplay and making room for improvisation are really important parts of our writing and playing," Lars Ove says. "It keeps the music alive."
The album is collage and infidelity undercut with an exuberant optimism. It deliberately breaks from the familiar bleakness of Norwegian-noir, in reference to philosopher Arne Næss's argument that positivity is just as intellectually rigorous as negativity, despite the former's reputation as frivolous and childish.
It is hard to tell whether 'I Love Art' is genius or folly. The record opens with the sound of running water, on 'Waters Changing' – an upbeat synth-heavy track that sounds, at points, like the Clangers singing Christmas Carols in a flood. There's the sickly, glittery 'Time' with its indie rock melodies carried by Marianna Røe's smooth, '80s soaked voice. By the pretentiously titled '<3' (love) we are into spoken word territory: the distorted vocals give way to an extended instrumental on which one 'instrument' might well be a waiter dropping a tray of forks in the middle-distance. There's the hip-hop inflected 'Serenade', and 'Pride', in which they're working with a genre I'm going to call folk-cum-RnB.
I've given the album 7/10 just because I had to assign it a number, and it is a lot of fun. But don't ask me whether 'I <3 Art' is any good or not – I really couldn't tell you.