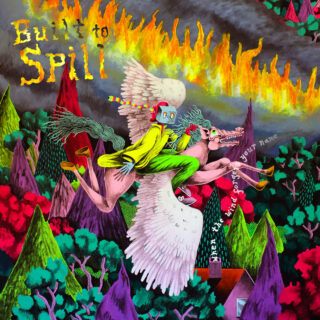 Built To Spill
When The Wind Forgets Your Name
(Sub Pop)
7/10
Some 30 years into their existence, the once prolific and now profligate Built to Spill return with When The Wind Forgets Your Name, their first outing in seven years. As with previous record Untethered Moon, a loose spontaneity resides, this replacing the gossamer sheen of late-'90s classics Perfect From Now On and Keep It Like A Secret.
In spite of the lengthy gestation period none of the tracks bear a hesitancy born of countless edits, nor do the workings between the margins appear obvious. Instead there's a ramshackle bounce to proceedings. This is clear from the off with 'Gonna Lose', a track hellbent on bringing Black Sabbath to the desert; like crockery falling down the stairs, a tumble of cymbals usher in a caterwaul of fuzzed-out psych guitars.
Where the inky prints of classic-rock colour the record there's great comfort to be found in the familiarity. Doug Martsch – the band's sole mainstay – doesn't Fear the Reaper at the start of 'Elements', and channels the heavy melodicism of post-reunion Dinosaur Jr on 'Never Alright'. But most exciting is when he steps into pastures new. No guesses allowed for which genre 'Rocksteady' doffs its cap to; it's all spacious bass grooves, thumping kick drum and shimmering tremolo, and with Martsch's deceptively wan vocals it's a hoot.
Elsewhere 'Comes a Day' pushes the limits of what three instruments in a studio can do. It distils vintage Built To Spill, hosting numerous chapters within a song, and allowing time shifts and separate vocal melodies to ruthlessly gallop on. Martsch's penultimate guitar part blooms like Tom Verlaine then rears like Crazy Horse. With the wait growing longer between each record it's reasonable to wonder if Built to Spill are to show up again, but if they don't they've signed out with a stellar LP and a career highlight in 'Comes a Day'.