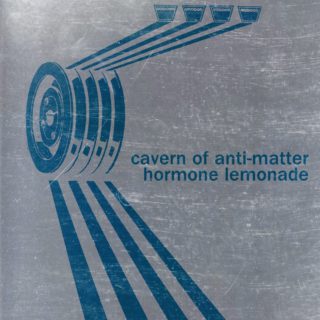 Cavern of Anti-Matter
Hormone Lemonade
7/10
Similar to Laetitia Sadier's album from last year, it's impossible to overlook the spectre of Stereolab on the third record from Tim Gane's post-'lab Cavern of Anti-matter project. That's not to say that they are particularly similar-sounding albums: where Sadier mined her old group's penchant for exotica and kitsch for surprisingly revealing songs, Gane and band have gone for the heads-down/prog-out approach, drawing on Stereolab's motorik tendencies to create a record full of kosmische synth jamming, pulsing drones and scaly textures. For an hour, throbbing timbres mutate slowly but in perfectly ordered time, creating the auditory equivalent of observing ever-changing countryside pass effortlessly by while hurtling down a dead straight road.
For the most part, it makes for taut, seductive, and rather hypnotising listening: opener 'Malfunction' feels comfortingly eternal as its 17 minutes draw to a close, and at the album's other end, both 'Remote Confection' and 'Phantom Melodies' act as a rather reflective, understated pair of warm-downs after an intense workout. In between, things aren't quite as consistent: bouts of rhythmical tricksiness and lurching polyrhythms add to the album's captivating combination of panicky tension and satisfying intricacy, but a handful of rather pedestrian shuffles – less musical expressions, more just thorough examinations of arcane equipment – disrupt the mood.
With the absence of any human voices on the record, too, it's tempting to wonder what Sadier might've brought to proceedings, especially as an emptiness frequently opens up in 'Hormone Lemonade' leaving it feeling more machine-tooled than man-made.
New monthly memberships available
Here's a new thing: our membership scheme now has a pay-monthly option, plus a load of exciting new digital stuff for people who support what we do. It's actually excellent value, honest, and will help us continue to promote new independent artists and labels.
Sign up and you'll receive our physical magazines delivered to your door, our digital editions, exclusive podcasts and playlists and access to our EXTREMELY glamorous Members Lounge. You'll be the envy of all your friends.