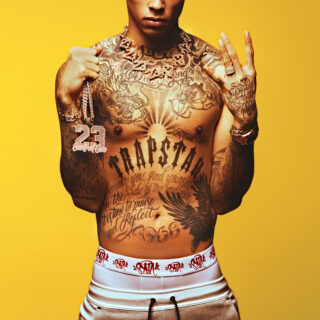 It's obvious when an artist has upgraded their efforts. Their recordings are equivalent to a new walk, owning the pavement rather than strolling by. In the case of Central Cee and his debut mixtape, Wild West, the power was in the singles. But it was enough to thrust the West London native to the apex of drill – and now he's turning the campsite into a cabin. His follow-up sticks to the same strengths but compliments them with less filler, robust content and a point to prove.
There's a vigour to Central Cee this time round. He's determined to demonstrate that his success is justified, whether it's stamping his athletic attitude to the rap game on opener 'Khabib', or stressing his tireless work rate on 'Straight Back to It'. A global takeover is on his mind with 'Eurovision', a continental collaboration that confirms his reach beyond our little old island. Responsibility and ethics clouds him on 'Cold Shoulder', a humane look into how the rapper feels about lack of reciprocation.
Homage is what Central Cee wants and what he gives. "I see a lot of videos look like mine, I don't even mind, just pay me homage", he says just two minutes into the mixtape, followed by a namecheck of his peers across generations on 'Ungrateful'. He even uses the term 'hip hop' on 'Straight Back to It' – diction that's often erased from UK rap – but Central Cee is correctly conscious of including himself in that canon. The correlation is backed up by the clarity in his raps, his tight beat selections (largely courtesy of Young Chencs) and a staple flow that's become synonymous with Central Cee's appeal.
Free Protomartyr flexi disc with this month's magazine
Subscribers to Loud And Quiet now receive a limited edition flexi disc of a rare track with their copy of the magazine
This month's disc is from Detroit punk band Protomartyr