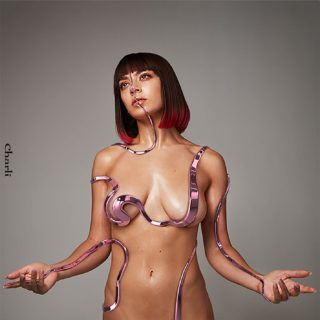 "The future of technology". "The future of videogames". "The future of music". It's always funny to look back at the past's idealised version of our present to see just how far we went wrong. Charli XCX and her collaborators have been called "the future of pop" for a while, but she gets away with it because she knows how goofy that statement is. With its hyperreal PC Music production and aggressively bougie persona, Pop 2 conjured an uncanny type of nostalgia – nostalgia for the past's promises about the future. She appropriated dated trademarks of 10's EDM, 00's pop and 90's dance, and whittling them into something memorable, daring, familiar but strangely new. It evokes a time when you believed Eurodance was the Next Big Thing, believed those overdramatic adverts for the Sega Mega Drive, believed that adulthood really looked like the facsimile our pop stars presented.
In truth, we all really know Charli is a very contemporary kind of pop star. She's recruited just about everyone with some rising influence for her self-titled release. It's a tactic that could lead to a formless soup of an album, as she bounces from trendy sound to trendy sound. Thankfully, it feels all hers. Each collaboration allows her to explore different sides of her persona while still presenting something holistic.
It's also just a bloody good pop album with lots of highlights 'Gone' with Heloise Lessiter is a glorious subversive duet, with a tight synth backing and passionate chorus that's made it a frontfunner for pop song of the year. 'Cross You Out' with Sky Ferreira is a blissed-out goodbye to unhealthy influences, one of many songs with a self-love focus.
Thankfully, Charli isn't afraid to get weird. 'Click' with Kim Petras and Tommy Cash picks up where a track like 'Femmebot' left off, with its braggadocio that grows more dangerous with each bass hit. She's also given room to explore on her own, like on 'White Mercedes', and 'Official', more melancholic sides to her music that still make sure to wink though the microphone.
The only big misstep is 'Blame It On Your Love', a blander version of 'Track 10' from Pop 2, stitched together with a throwaway Lizzo feature that's basically an advert for her album. Like the rest of Charli, there's a sense we've been here before with Pop 2, but that's hardly a bad thing when escaping back to the future is the aim.