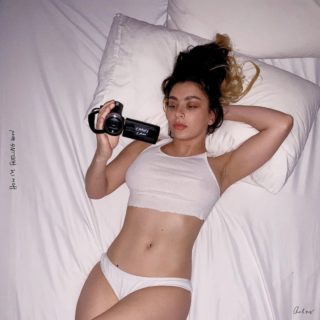 Charli XCX
how i'm feeling now
(Atlantic)
9/10
A NOTE: LOUD AND QUIET IS IN DANGER OF CLOSING. PLEASE CONSIDER SUBSCRIBING TO OUR MAGAZINE OR MAKING A SMALL DONATION HERE. THANK YOU.
how I'm feeling now is and forever will be known as Charli XCX's "lockdown album", a media-fed phenomenon that she seems to be the only real evidence of. While the bulk of artists and labels are busy moving their releases around like pieces on a rocky chessboard, Charli XCX has used the last six weeks to actually deliver on the unrealistic resolutions we all made at the crisis' inception. 
It has not been a closed door affair either. Charli has documented it every painstaking step of the way on her radio show, on her social media and through the never-ending interviews she has been giving – all the while working with her fans and numerous writers and producers to stitch the album together. This is music on an unheard of deadline.
However, don't be misled, this is not a diaristic curiosity or a superficial self-isolation soundtrack: how I'm feeling now is a miraculously accomplished and mature album which slots seamlessly into Charli's flawless flow of weird pop releases since 2016's Vroom Vroom EP. 
Charli XCX uses all 11 tracks to guide us through our shared traumas that have unravelled across the globe with a statistical precision; beginning the record with the inchoate but indignant fatalism of 'pink diamond', before carefully treading through the existential vulnerability of 'forever' and 'claws', then recounting our relentless reflections and revelations in '7 years', 'detonate', 'enemy' and 'i finally understand', before pogoing through the rebellious boredom of  'c2.0', 'party 4 u' and emerging at the (to borrow a phrase) future nostalgia that pulsates through 'anthems' and 'visions'. 
Beyond Charli's ability to faithfully translate the permeating zeitgeist, what is most striking about the record is the internal logic, consistency and density of her song-writing. Despite its Facebook feed-like name, this album is not a fragmentary timeline of ideas and thoughts but an uncompromising and obsessively fine-tuned project. Like the crisis itself, there's a disbelief that so much could be done in such an unfathomably short space of time.
There is a beguiling laser focus that rips through the entire album; from the impressionistic lyrical delivery that oscillates with a blue-printed rhythmic uncertainty, to the saturation and utilisation of genre-blind experimental beats which start frantic and downcast but end jubilant and assured and the granularity of production which purifies itself throughout the record from the oddly choppy and washed-out filter in the opening tracks to the crystal clarity of Euro-trance drenched closer "visions".
The microcosm of individual tracks is as impressive as the macrocosm of the album with sublime individual moments of pop genius laced throughout Charli's almost Shakespearean tale of fated love with her long-term boyfriend who she is unexpectedly but pleasantly experiencing lockdown with. 
There is the extended outro to 'forever' that feels like a beautiful accident which only survives due to a lack of editing time, there's the expert tonal shift nearly the end of 'detonate' that is instinctual and rewarding on multiple listens, the oneiric daze of 'enemy', the self-referential but crooked reflection of previous album's rabble-rouser 'Click' in 'c2.0' that is sketchy and indulgent but soaked with melancholy, there's the quick-fire rap of desperation during 'party 4 u' (the only track to predate these sessions) that is infectiously uproarious and finally the atavistic hook and punch of future phantom floor-filler 'anthems' that is resolutely cathartic. 
Long dismissed as a weird starlet in pop's ordered constellation, Charli XCX suddenly has the entire world on her wavelength and admirably in this unprecedented chaos she has emerged with her most consistent, rewarding and relatable album. This is undoubtedly next level Charli.