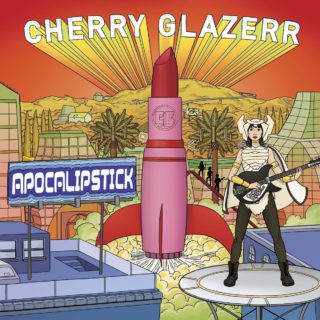 Cherry Glazerr
Apocalipstick
7/10
With a title and album cover that could be mistaken for a feminist sci-fi flick that's destined to be a cult-classic, Cherry Glazerr's second effort 'Apocalipstick' offers a healthy dosage of slacker-pop that will find itself welcomed with open arms by those with an ear for the likes of Hinds, Diet Cig and Girlpool.
Lead singer-songwriter Clementine Creevy has been writing music under differing pseudonyms since she was just 15, using GarageBand and Soundcloud to help bring her lo-fi bedroom recordings to the world, and taking inspiration from the likes of Patti Smith and Kathleen Hanna. And like most teenagers getting into alternative music for the first time, Creevy's passion was fierce, and now, as she nears her 20s, the Los Angeles-based artist still sounds just as impassioned on these 11 new songs.
Aside from a few forgettable moments, 'Apocalipstick' is an infectious and fun affair that builds from where their promising debut 'Haxel Princess' left off, with a slightly less angsty and more mature demeanour and tidier production. The fuzzy riffs of 'Told You I'd Be With The Guys' and the moody 'Sip O' Poison' are highlights, with Creevy's lyrics tackling everything from social media snobbery to the ups and downs of relationships.
However, the best thing about 'Apockalipstick' is that Cherry Glazerr don't sound like they want or need anyone's gratification, instead they come across like they're expressing and enjoying themselves. While this isn't quite it, there's a feeling that they are sure to produce something truly special in the future.