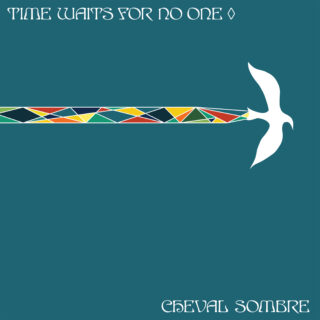 Cheval Sombre
Time Waits For No One
6/10
Eight years on from his last solo release, New York poet and songwriter Cheval Sombre (real name Chris Porpora) returns with Time Waits for No One, a collection of spaced-out ballads that aims to encase listeners in a sonic sanctuary. By no means a creation of the pandemic, but somehow fitting to the times all the same, the record is an homage to slowing down, to encountering the world without rush or expectation. 
Written over many years, the record comprises eight original songs and a dream-like cover of Townes Van Zandt's 'No Place To Fall'. The music is anchored by Porpora's hypnotic vocals alongside simple open-tuned acoustic guitar, encircled by keyboards, strings and cosmic effects. Gentle and repetitive, the songs have a way of bleeding into each other, running with ideas for longer than might be expected, so the listener might lose track of where the song began and when it might end.
Time Waits for No One feels like the hazy space in between dreaming and waking – calm, ethereal, and at times unmemorable – but perhaps this was Porpora's intention. "Music doesn't have to be so ambitious all of the time," he said of the record. "There is a place in music where we might suggest something eternal, a refuge." That he has certainly achieved – close your eyes and let yourself sink into it.
We're not being funny...
… but can you become a member please?
It's actually excellent value, and will help us continue to promote new independent artists and labels.
Sign up and you'll receive our physical magazines delivered to your door, our digital editions, exclusive podcasts and playlists and an actual bookmark, as if printing a magazine in 2021 wasn't old fashioned enough.
6-month and full year memberships are available now. Fancy it?